Trisha Yearwood's Lizzie's Chicken and Dumplings
Comfort Food at its Best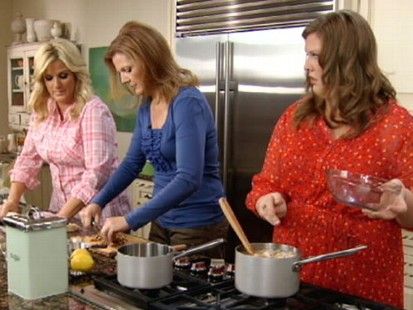 Country music star joins "GMA" to make classic southern foods.
From the kitchen of Trisha Yearwood
Ingredients
For the Chicken:
One 5-pound hen or chicken (makes about 4-pounds cooked, after bones and skin removed)
1 tablespoon salt
1 teaspoon pepper
For the Dumplings:
2 cups unsifted all-purpose flour, plus more for dusting
Salt and pepper
Cooking Directions
For the chicken: Put the hen, breast side down, in an 8-quart stockpot and add water to within 2-inches of the top of the pot; this will vary according to the size of your pot, but the hen should float clear of the bottom of the pot and be covered completely. Add the salt and pepper. Bring the water to a boil and reduce the heat to a simmer. Cover the pot and cook for 2 hours, or until the chicken is tender and the drumstick joint twists easily. Allow the chicken and broth to cool slightly, and then remove the hen to a colander.
Strain the broth into a very large bowl. Cover the broth and place in in the refrigerator. When the fat solidifies on the top of the broth, remove and discard it. Remove the chicken from the bones and cut or shred the meat by hand into small pieces. Set aside 2 cups of the broth and refrigerate or freeze the rest for another use. (Leftover broth may also be frozen in individual containers to be used another time.)
For the dumplings: Heat 2 quarts of the defatted chicken broth in a 3-quart saucepan. While it heats, put the flour in a medium bowl. Dissolve 1 teaspoon salt in 3/4 cup water and stir the mixture into the flour to make a stiff dough. Turn the dough out onto a heavily floured surface and knead until smooth, 1 to 2 minutes. Heavily flour a rolling pin and roll out the dough very thin (you can also divide the dough into 4 portions and roll each portion separately, which will give you thinner dumplings). With a very sharp knife or pizza cutter, cut the dough into 2 by 4-inch strips.
When the broth reaches a rolling boil, add some of the strips of dough. Reduce the heat to a simmer, cover the pot and bring back to a boil. Continue to add the dough strips in batches, always raising the heat to bring the broth back to a rolling boil before dropping in more dough strips and reducing the heat to simmer before covering the pot again. Sprinkle in the salt and pepper to taste. Add the 2 cups of cooked chicken, heat and serve.
This recipe was styled by chef Karen Pickus for Good Morning America.
Recipe adapted from Georgia Cooking in an Oklahoma Kitchen (c) Clarkson Potter 2008
Recipe Summary
Main Ingredients: chicken, flour, pepper, salt
Course: Dinner