Trisha Yearwood's Rib Eye Steak Marinade and Zucchini Sauté
A Delicious Dinner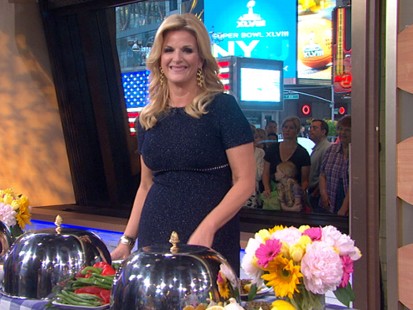 From the kitchen of Recipe courtesy Trisha Yearwood
Trisha Yearwood brings us this recipe for Karri's Steak Marinade and a delicious zucchini saute.
Ingredients
For the steak marinade:
1 cup ketchup
1/4 cup cider vinegar
3 cloves garlic, crushed
2 teaspoons onion powder
1/2 cup pineapple juice
1 teaspoon crushed red pepper
1 tablespoon natural mesquite flavor liquid smoke
1 tablespoon cumin
2 teaspoons dried oregano
Honey, to coat
2 rib eye steaks
Sea salt and pepper
For the zucchini sauté:
1 tablespoon olive oil
1/2 teaspoon minced garlic
3 large zucchini squash, thinly sliced
1/2 teaspoon salt
1/4 teaspoon pepper
1/4 cup grated parmesan cheese
Cooking Directions
For the steak marinade:
Whisk together the ketchup, cider vinegar, garlic, onion powder, pineapple juice, crushed red pepper, liquid smoke, cumin and oregano in a shallow baking dish. Put a layer of honey on both sides of the steaks and place the steaks in the marinade, tossing to cover both sides. Leave for 2 to 4 hours, remove from marinade and pat dry.
Season with salt and pepper and grill to desired doneness.
Yield: 2 cups marinade for 2 steaks
Prep Time: 5 minutes
Inactive Prep Time: 4 hours
Active Time: 5 minutes
Total Time: 4 hours 5 minutes
For the zucchini sauté:
Heat the olive oil in a medium skillet over medium heat. When hot, add the garlic and sauté for 2 minutes, or until fragrant; don't let it brown. Add the squash, salt and pepper and cook until the squash is tender but still slightly crisp, about 5 minutes. Transfer the squash to a serving dish and sprinkle with the parmesan cheese.
Yield: 6 to 8 servings
Prep Time: 5 minutes
Cook Time: 10 hour
Ease of preparation: easy
Active Time: 15minutes
Total Time: 15 minutes
Recipe adapted from Georgia Cooking in an Oklahoma Kitchen by Trisha Yearwood (c) Clarkson Potter 2008.
This recipe was styled by chef Karen Pickus for Good Morning America.
Recipe Summary
Main Ingredients: rib eye steaks, ketchup, vinegar, pineapple juice, honey
Course: Sauces and marinades