Trisha Yearwood's Spicy Edamame Dip
Dig Into This Healthy Party Dip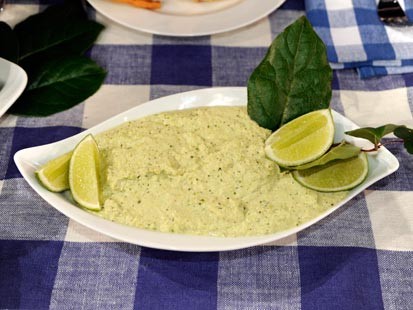 From the kitchen of Trisha Yearwood
|
Cayenne pepper adds a pop to Trisha Yearwood's edamame dip. Whip up a batch for your next get-together and serve with pita chips for dipping!
Ingredients
4 large garlic cloves, unpeeled
16-ounces shelled edamame beans (about 2 cups)
1 teaspoon salt
1/2 teaspoon cayenne pepper
1/4 teaspoon ground cumin
4 tablespoons olive oil
1/4 cup fresh lime juice
1/4 cup finely chopped fresh cilantro
Pita chips, for dipping
Cooking Directions
In a medium skillet over medium heat, roast the garlic, turning frequently, until light brown, about 15 minutes. Remove from heat, cool, and then slip off the skins. Set aside.
Bring about 8 cups of water to a boil in a saucepan and drop in the beans. Bring back to a boil and cook for 5 minutes. Reserve 3/4 cup of the cooking water before draining. Drain the beans and cool.
Transfer the garlic into a food processor and chop coarsely. Add the beans, salt, cayenne pepper, and cumin. Process in the food processor, adding the reserved water a little at a time until smooth (you may not need to add all of the water). Add the olive oil, lime juice, and cilantro. Pulse to combine. Use pita chips for dipping.
Recipe adapted from Home Cooking with Trisha Yearwood (c) Clarkson Potter 2010
This recipe was styled by chef Karen Pickus for Good Morning America.
Other Recipes That You Might Like