Tuna Melt with a Flair
'Comforting' Family Favorite Is a Tasty Twist on Tuna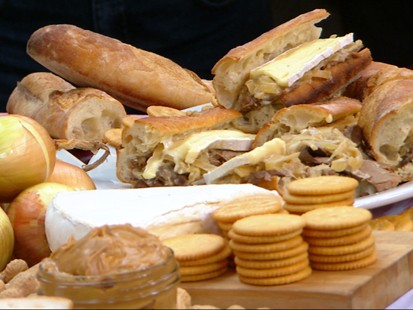 Correspondent Taryn Winter Brill tests out some new recipes.
From the kitchen of Michael Tilson
Taryn Winter Brill brings "Good Morning America" another sandwich story. Michael Tilson of Key West, Fla. wrote to "GMA" about a sandwich created during Hurricane Wilma in 2005: "My wife and I find this to be filling, mild, sweet, yet slightly spicy. Living in Key West, especially during hurricane season, your supplies include canned food. We had tuna, and the cheese on hand was going to spoil. Having no butter we used the small packets of mayonnaise, and relish you get at fast food stores. The horseradish also was from a packet of horsey sauce from Arby's. Just after hurricane Wilma hit the Florida Keys, we had no power. Having hurricane supplies, and a camping stove we made this sandwich that was comforting and healthy."
Ingredients
2 pieces bread
mayonnaise
mild horseradish sauce
2 slices cheese
1 can white albacore tuna
black pepper, to taste
sweet pickle relish
cumin
garlic powder, to taste
onion powder, to taste
Cooking Directions
First I take two pieces of bread. I find a dark bread to be more tasty, however any bread will do.
Instead of using butter to coat the outside of the bread, I use a thin layer of mayonnaise to help brown the bread.
On the inside of the bread I spread a mild horseradish sauce, then layer on top of the horseradish a slice of cheese on both sides of the bread.
Open a can of tuna (white albacore is the mildest and has better consistency.)
Place tuna in a mixing bowl and add to taste black pepper, a little sweet pickle relish, a dash of cumin, a pinch of garlic powder, and a smidgen of onion powder. Mix well.
Plop the mixture onto one of the slices of cheese and bread.
Place the other piece of bread on top and press until the tuna spreads across the cheese. Put the sandwich in a pan on medium heat until one side is browned.
Flip sandwich and brown other side.
Remove once browned and allow to set about 2-3 minutes.
Recipe Summary
Main Ingredients: tuna, cheese, sweet pickle relish
Course: Brunch, Dinner, Lunch