Patti LaBelle's Turkey Burgers
Star Snacks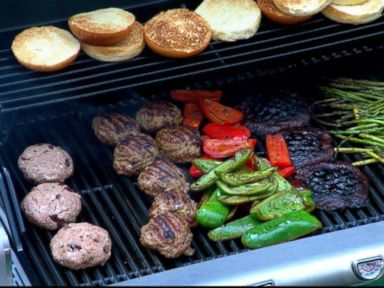 The Grammy award-winner shares her favorite turkey burger recipe using new line of signature sauces, "Patti's Good Life."
From the kitchen of Patti LaBelle
Patti LaBelle may be most known for her Grammy-winning jazz music, but she also knows her way around a kitchen. Her new product line, Patti's Good Life, provides barbecue sauces, marinades, hot sauces and more that are naturally low in sugar -- safe for people with diabetes, like herself. Check out her recipe for turkey burgers below.
Ingredients
2 teaspoons canola oil
1/8 cup minced onions
1 tablespoon minced parsley
2 teaspoons poultry seasoning
2 pounds lean ground turkey
1 large egg white
1/2 cup dried cranberries
1/2 cup crushed stuffing mix
Coarse salt and freshly ground pepper to taste
6 toasted hamburger buns
Cooking Directions
Preheat and oil the grill.
Heath the oil in a small saute pan over medium heat. Add the onions, parsley and poultry seasoning and saute for about 3 minutes or until the onions are sauce. Remove from the heat.
Place the turkey in a mixing bowl. Add the egg white and, using your hands, squeeze to blend. Add the cranberries and stuffing mix along with the onion mix and, again using our hands, mix well to blend. Season with salt, pepper and hot sauce to taste. Form the mix into 6 patties of equal size.
Place the burgers on the grill and grill for 6 minutes. Turn and grill for another 5 minutes for well done. You want the meat to be cooked through, but take care not to overcook, as the lean turkey will very quickly dry out.
Note: Patti recommends a special spread of a few tablespoons of cranberry jelly and her LaBelle Sweet Hot Jalapeno Relish with some mayonnaise.
Recipe Summary
Main Ingredients: lean ground turkey, dried cranberries, stuffing mix, labelle pepper clear mild pepper sauce, hamburger buns
Course: Main Course