Emeril Lagasse's Turkey and Rice Soup with Vegetables
Now, here's what to do with all those lleftovers.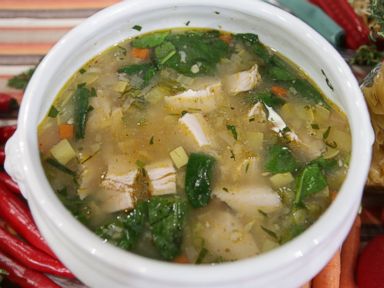 From the kitchen of Emeril Lagasse
Rather than just stick those Thanksgiving leftovers into the microwave, spice things up and transform the flavors into a whole new meal. Emeril Lagasse shows you how with his recipe for Turkey and Rice Soup with Vegetables.
Ingredients
1 leftover turkey carcass from a roast turkey
1 onion, quartered
2 carrots, halved
1 rib celery, cut in half
3 cloves garlic, smashed
5 peppercorns
3 bay leaves
4 quarts water
1 1/2 cups chopped onions
1 cup chopped celery
1 cup diced carrots
2 tablespoons minced garlic
Essence
Salt and freshly ground black pepper
Scant 2/3 cup uncooked long grain white rice
3 cups diced roasted turkey
1/2 cup chopped green onions
1/4 cup fresh parsley leaves
2 tablespoons chopped fresh basil
2 cups small diced assorted fresh vegetables, such as beans, zucchini, yellow squash, and/or cabbage
2 cups torn spinach leaves, cleaned and stemmed
Pinch crushed red pepper
Cooking Directions
In a large soup pot, combine the turkey carcass, quartered onion, halved carrots and celery, smashed garlic, peppercorns, bay leaves and water. Bring to a boil over high heat then reduce heat so that the liquid slowly simmers. Cook for 1 1/2 to 2 hours, or until the stock is flavorful. Strain the stock through a fine mesh sieve and discard the solids.
Return the stock to the soup pot and add the chopped onions, chopped celery, chopped carrots, and minced garlic. Season the soup lightly with Essence, salt, and pepper and cook for 15 minutes. Stir in the rice and cook, stirring occasionally, until tender, about 20 minutes. Stir in the turkey, green onions, parsley, basil, chopped vegetables, spinach, and crushed red pepper and cook until the vegetables are tender, 5 to 10 minutes longer. Reseason if necessary. Serve hot.
Recipe courtesy Emeril Lagasse, copyright MSLO, Inc., all rights reserved.
Recipe styled by Karen Pickus for Good Morning America.
Recipe Summary
Main Ingredients: turkey, white rice, fresh vegetables, spinach, water
Course: Soup