Emeril Lagasse's Turkey Waldorf Sandwich
Leftover No More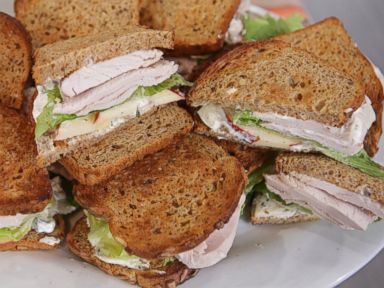 From the kitchen of Emeril Lagasse
Rather than just stick those Thanksgiving leftovers into the microwave, spice things up and transform the flavors into a whole new meal. Emeril Lagasse shows you how with his recipe for Turkey Waldorf Sandwiches.
Ingredients
One 21/2-pound split turkey breast, bone in and skin on (see Notes)
2 3/4 teaspoons sea salt or kosher salt
1 teaspoon freshly ground black pepper
¼ cup olive oil
1/2 cup toasted and chopped pecans
1/2 cup plus 2 tablespoons plain Greek-style yogurt
¼ cup plus 2 tablespoons mayonnaise, homemade, or store-bought
1 tablespoon chopped fresh parsley leaves
2 teaspoons cider vinegar
1 Honeycrisp or Pink Lady apple
2 tablespoons freshly squeezed lemon juice
2 ribs celery, thinly sliced on the diagonal
¼ cup chopped dried cherries
8 slices seed and nut bread, toasted
8 leaves romaine lettuce, torn
1 cup alfalfa sprouts or your favorite sprout
Cooking Directions
Preheat the oven to 350°F.
Season the turkey breast on all sides with 2 teaspoons of the salt and K teaspoon of the pepper. Place the turkey in a small roasting pan or on a baking sheet, and roast for 30 minutes. Then brush the turkey with 2 tablespoons of the olive oil and continue to roast for another 30 minutes, or until the thickest section registers an internal temperature of 165°F on an instant-read thermometer. Remove the pan from the oven and loosely tent it with aluminum foil. Let the turkey rest for at least 15 to 20 minutes. Once the turkey has rested, remove the breast bone and cut the turkey into thin slices. Set aside on a platter.
To make the Waldorf dressing, in a medium bowl, combine the chopped pecans with the 1/2 cup yogurt, the ¼ cup mayonnaise, the parsley, and the vinegar. Season with 1/2 teaspoon salt and ¼ teaspoon pepper.
Halve and core the apple; then cut it into thin slices on a mandoline. In a medium bowl, toss the apple slices with the lemon juice, celery, and cherries. Then add the dressing and toss.
In a small bowl, combine the remaining 2 tablespoons olive oil, 2 tablespoons yogurt, 2 tablespoons mayonnaise, ¼ teaspoon salt, and ¼ teaspoon pepper. Mix well.
To assemble: Place 4 slices of the toast on a clean work surface. Spread 1 tablespoon of the yogurt-mayonnaise mixture on each slice of toast. Top each one with lettuce leaves, several slices of turkey, 3/4 cup of the apple salad, and ¼ cup of the sprouts. Top with the remaining slices of toast. Cut each sandwich in half, and serve immediately.
Note: Any leftover roast turkey will keep, well wrapped and refrigerated, for up to 3 days. If you already have leftover roast turkey, skip steps 1 and 2 and proceed to assembling the salad in step 3.
Recipe courtesy Emeril Lagasse, adapted from Emeril's Kicked-Up Sandwiches: Stacked with Flavor, HarperCollins Publisher, New York, 2012, copyright MSLO, Inc., all rights reserved.
Recipe styled by Karen Pickus for Good Morning America.
Recipe Summary
Main Ingredients: turkey, pecans, greek yogurt, mayonnaise, apple, dried cherries, bread
Course: Main Course