Twin Chefs' Mandarin Pecan and Cranberry Trifle
A Festive Trifle That is Pretty and Healthy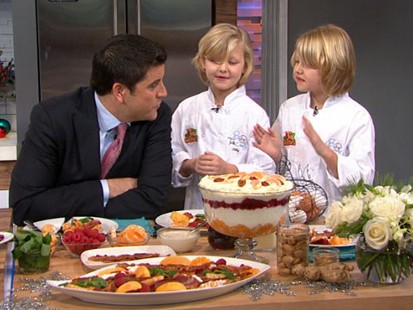 Twin girls show how to transform those leftovers into scrumptious new meals.
From the kitchen of Twin Chefs
This trifle recipe is a healthy alternative to the rich trifles you see during the holidays. Made with greek yogurt, and oranges, it's light and refreshing!
Ingredients
For the cranberry layer:
3 cups fresh cranberries
2/3 cups granulated sugar
2/3 cups of water
For the bottom layer:
10 Cuties mandarins
Juice of ½ lemon
2 tablespoons sugar
4 cups 1/2 inch cubed pound cake, set aside
For the mascarpone and yogurt Layer:
32 oz. mascarpone, at room temperature
4 cups of greek yogurt
½ cup of honey
½ Teaspoon almond extract
Optional: 12 small ginger bread cookies
Cooking Directions
1 -14 cup clear glass trifle bowl
Directions for Cranberry Layer:
Place the water and sugar in a heavy bottomed pot over high heat and bring to a boil. Add cranberries and cook 1 minute. Turn off heat and let stand 30 minutes.
Directions for the bottom layer:
Peel and segment 4 mandarins, place in a small bowl. Juice 2 mandarins and the lemon over the segments. Add sugar and stir to combine and set aside. Peel 4 mandarins and cut into ¼ inch wheels and set aside.
Directions for the mascarpone and yogurt layer:
Place mascarpone in a large stainless steel bowl; whip to soften with a large whisk. Add honey and almond extract and whisk to soften, add yogurt and whisk to combine.
Directions for the top layer:
Whip cream in medium stainless steel bowl to soft peeks with a large whisk. Add sugar and ginger and whisk to firm peek.
To assemble trifle:
Mix pound cake with mandarin juice mixture to combine. Place mandarin wheels upright against the side of the bottom of the bowl in a decorative manner.
Continue by placing pound cake mixture in center of bowl to cover bottom. Top pound cake with half of the mascarpone mixture. Next carefully spoon cranberry mixture in an even layer.
Top with second half of mascarpone layer. Spread whipping cream evenly over the top, chill for at least 1 hour.
Remove from refrigerator and garnish with mandarin segments and pecan halves. Ring the bowl with ginger bread cookies if desired and serve.
This recipe was styled by chef Karen Pickus for Good Morning America.
Recipe courtesy Twin Chefs.
Recipe Summary
Main Ingredients: cranberries, yogurt, mandarin oranges, sugar, greek yogurt
Course: Brunch, Dessert
More Info: Kid Friendly