Smashburger's Twin Cities Burger
Better Burger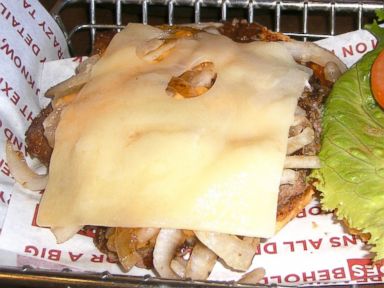 From the kitchen of Smashburger
May marks National Burger Month, which is practically an American rite of passage. If you don't eat at least one burger this month, consider it a letdown to your country. Try Smashburger's Twin Cities-inspired burger to kick things off.
Ingredients
Onion rolls (pick your local favorite)
1 pound Ground beef (80-85% lean)
1 large yellow onion, thinly sliced
Cold packed cheddar cheese
Sliced Swiss cheese
Leaf lettuce
1 large tomato, sliced
Mayonnaise
Unsalted butter, melted
Kosher salt
Coarse ground black pepper
Cooking Directions
Separate the 1 pound ground beef into halves or quarters (1/2-pound or 1/4-pound burgers), balling them into loosely packed meatballs.
Paint the inside of the bread rolls with butter.
Toss the sliced onion with a teaspoon of melted butter, salt and pepper.
Now, on a large hot griddle, paint 2-4 spots with melted butter. Place the meatballs on the butter, and with the back of a heavy spatula, smash the burgers into the griddle for ten seconds. Then salt and pepper the burgers to taste.
While the burgers are cooking, grill the onions, and when they are caramelized, separate into four portions. Place a slice of Swiss cheese on each portion, and let melt.
Turn the burgers, and place 1 ounce of cold packed cheddar on the burger.
Place the butter side of the onion rolls on the griddle and butter toast them.
When the burger is done, place it on the bottom of the toasted onion roll. Then place the onion Swiss cheese melt on top of the burger. Top with two lettuce leaves and two slices of tomato.
Spread 1 ounce of mayo on the butter-toasted top of the onion roll.
Recipe Summary
Main Ingredients: ground beef, swiss cheese, onion rolls, cheddar cheese
Course: Dinner