Twinkie Burrito
Twist on a Classic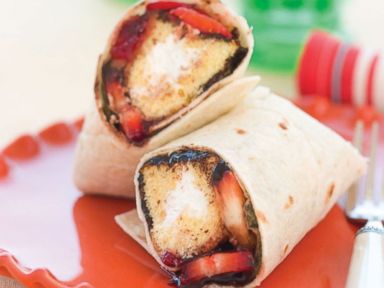 From the kitchen of Hostess
It's been nearly a year since Twinkies hit the shelves again -- plenty of time for fans to have devoured them in their classic form and be ready for a twist. Try Hostess' recipe for a Twinkie burrito below.
Ingredients
4 (10- to 12-inch) flour tortillas, warmed
1/2 to 3/4 cup chocolate sauce
4 Twinkies
2 cups sliced strawberries, or 1/2 cup strawberry preserves
Cooking Directions
Drizzle one side of each tortilla with the chocolate sauce. Place a Twinkie on top of the chocolate sauce in the center of each tortilla. Top each Twinkie with 1/4 cup of the strawberries. Fold the tortillas over the Twinkies and roll up like a burrito.
Recipe courtesy Peter Sheridan, Washington, D.C.
Recipe Summary
Main Ingredients: twinkie, tortilla, chocolate sauce, strawberries
Course: Dessert