Twinkie Cherry Pie
Twist on a Classic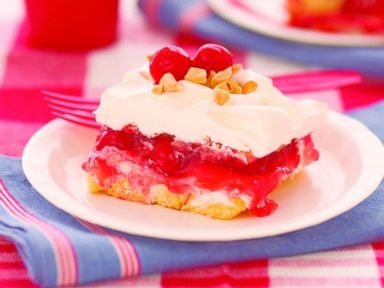 From the kitchen of Hostess
|
It's been nearly a year since Twinkies hit the shelves again -- plenty of time for fans to have devoured them in their classic form and be ready for a twist. Try Hostess' recipe for a Twinkie cherry pie below.
Ingredients
1 (8-ounce) package cream cheese, at room temperature
1 (14-ounce) can sweetened condensed milk
10 Twinkies, halved lengthwise
1 (21-ounce) can cherry or other fruit pie filling
1 (15-ounce) can crushed pineapple in juice, drained
1/2 cup chopped Brazil nuts or other nuts (optional)
1 (8-ounce) contained frozen nondairy whipped topping, thawed
Cooking Directions
In a bowl, combine the cream cheese and condensed milk and beat with an electric mixer on medium-high speed until smooth. Arrange the Twinkies cut side up in a 9 by 13-inch baking dish. Pour the cream cheese mixture over the Twinkies.
Reserve about 1 tablespoon of the pie filling for garnish. Spoon the remaining pie filling over the cream cheese layer. Spoon the pineapple over the pie filling.
Reserve 2 tablespoons of the nuts for garnish. Sprinkle the remaining nuts over the pineapple, then spread the whipped topping over all. Garnish with the reserved pie
filling and nuts.
Cover and refrigerate for 4 to 6 hours or overnight. Cut into squares to serve.
Recipe courtesy Carolyn Nicholson, Inglewood, Calif.
Other Recipes That You Might Like