Tyler Florence's Beef with Spinach, Parmesan, Lemon and Olive Oil
Not Your Average Beef Dish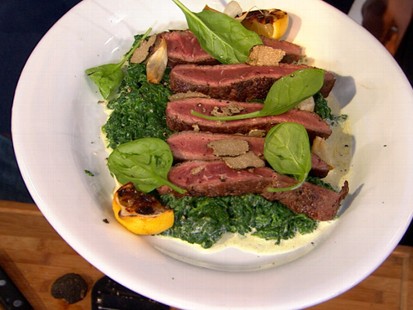 Food Network star also prepares his kale salad with green apple and walnuts.
From the kitchen of Tyler Florence
Try Tyler Florence's California grass-fed beef recipe with spinach, parmesan, lemon and olive oil. For more great recipes, take a look at Tyler's new book "Fresh."
Ingredients
1 head garlic
Extra-virgin olive oil
For the Tuscan spinach:
2 pounds spinach
2 tablespoons unsalted butter
2 tablespoons extra-virgin olive oil
2 cloves garlic, lightly smashed
1 cup heavy cream
1/4 teaspoon freshly ground nutmeg
1/2 cup freshly grated Parmigiano-Reggiano
Kosher salt and freshly cracked black pepper
For the charred lemon:
1 lemon, halved lengthwise
For the steak:
Grapeseed oil
1 (1-pound) flatiron steak
Kosher salt and freshly cracked black pepper
½ up shaved Parmigiano-Reggiano
Fresh baby spinach leaves
Cooking Directions
Roast the garlic. Preheat the oven to 350°F. Break garlic head up into cloves and place on a sheet of foil. Drizzle with a little olive oil and then fold the foil to form a pouch and seal tightly. Roast in the oven for 20 to 25 minutes. When done, remove from oven and open the pouch (so the garlic doesn't steam). Set aside until ready to serve.
Make the spinach. Wash the spinach in several changes of water to get rid of any grit. Drain the spinach, but keep some of the water clinging to the leaves. Heat the butter and olive oil in a large cast-iron skillet over medium-high heat and add the spinach and garlic. Cook, turning frequently, until the spinach is wilted down evenly. Remove the garlic. Put the spinach into a colander and let it drain well, pressing out as much liquid as you can. Chop the spinach coarsely. Heat the same cast-iron skillet over medium-high heat, and add the cream and nutmeg; cook until it reduces by half, about 5 minutes. Add the spinach and Parmesan, and season with salt and pepper. Stir until the spinach is hot. Keep warm.
Char the lemon halves. Heat a grill to high. Grill the lemon halves cut-side down directly over high heat for about 2 minutes directly over high heat until they are well marked.
Cook the steak. Preheat oven to 375°F. Set a large sauté pan over high heat, and when it is smoking hot and a drizzle of grapeseed oil. Pat steak dry with paper towels then season all over with salt and pepper. Sear steak in the pan, 3-4 minutes per side, so it forms a nice crust with deep color. Transfer the steak to a plate, tent it with foil and allow to rest for 5 to 6 minutes.
Cut the steak into thick slices and serve with the creamed spinach and roasted garlic cloves. Top with the shaved parmesan and garnish with charred lemon halves and some fresh baby spinach leaves.
Recipe courtesy Tyler Florence.
Recipe Summary
Main Ingredients: spinach, garlic, olive oil, nutmeg
Course: Dinner, Main Course