Home
>
GMA
>
Recipes Home
>
Tyler Florence's Kale Salad with Green Apple, Walnuts and Roasted Grape Vinaigrette
Tyler Florence's Kale Salad with Green Apple, Walnuts and Roasted Grape Vinaigrette
Healthy and Flavorful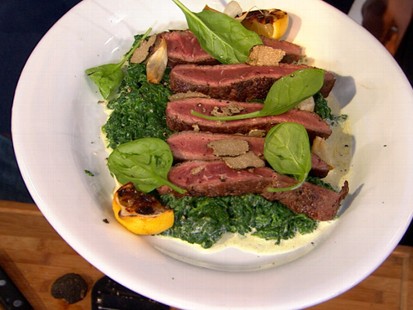 Food Network star also prepares his kale salad with green apple and walnuts.
From the kitchen of Tyler Florence
|
Try Tyler Florence's kale salad with green apple, walnuts and roasted grape vinaigrette. For more great recipes, take a look at Tyler's new book "Fresh."
Ingredients
For the vinaigrette:
1/2 pound red seedless California grapes
2 tablespoons honey
1/4 cup extra-virgin olive oil, plus more for drizzling
Kosher salt and freshly cracked black pepper
2 tablespoons apple cider vinegar
Squeeze of fresh lemon juice
2 Golden Delicious apples
Extra-virgin olive oil
Kosher salt and freshly cracked black pepper
1 cup walnut halves
4 cups lightly packed mixed winter green leaves (such as green and purple kale, beet greens, and chard)
1/2 cup crumbled mild blue cheese, such as Humboldt Fog
Cooking Directions
Make the vinaigrette. Preheat the oven to 450 degrees F. Cut the grapes into small clusters, reserving a handful of loose grapes. In a large cast-iron pan, combine the grape clusters, honey, and a drizzle of olive oil. Season with salt. Toss to coat evenly, then roast in the oven for 10 to 12 minutes, until the grape skins are slightly blistered. Remove from the oven and carefully transfer the roasted grape clusters to a plate and set aside. Allow the pan to cool slightly, then add the cider vinegar, lemon juice, and ¼ cup olive oil. Season with a little pepper, then add the reserved raw grapes to the pan. Use a whisk to crush the grapes and mix the liquid into a vinaigrette.
Roast the apples and walnuts. Core the apples and slice them horizontally into 1/4-inch-thick slices. Arrange them on a baking sheet, drizzle with olive oil, and season with salt and pepper. Arrange the walnuts in a single layer on a small roasting tray. Roast the apples and walnuts for 15 to 17 minutes, until the apples are slightly puffy and the walnuts are deeply colored. Remove, and season the walnuts with salt while still hot.
Prepare the kale. Wash the greens, then remove any tough stems so you have only the tender leaves. Tear into bite-size pieces if needed.
To serve, set the apple slices on a large platter and top with small clusters of roasted grapes. Scatter with the greens. Crumble the blue cheese and walnuts over the top. Drizzle with the roasted grape vinaigrette, and serve.
Recipe courtesy Tyler Florence.
Other Recipes That You Might Like