The Ultimate Cheese Dip: Cheesy Beer
A Crowd Favorite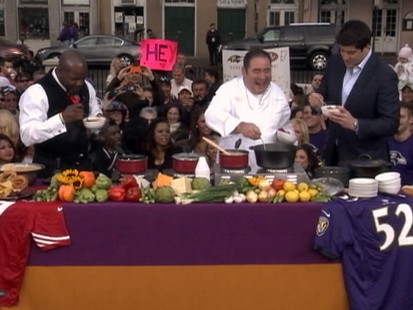 Star chef cooks up mouth-watering, game-day grub for tailgate parties.
From the kitchen of Emeril Lagasse
Try this Super Bowl cheese dip recipe from Emeril.
Ingredients
5 tablespoons salted butter
1/4 cup plus 1 tablespoon all-purpose flour
1 1/2 cups dark beer
1/4 cup plus 2 tablespoons minced shallot
1/4 cup minced garlic
4 cups heavy cream
1 sprig fresh thyme
1 bay leaf
3/4 cup grated sharp cheddar cheese (about 3 ounces)
3/4 cup grated Swiss cheese (about 3 ounces)
4 slices American cheese (about 3 ounces)
1/2 teaspoon salt
1/4 teaspoon freshly ground white pepper
Soft pretzels, chips, or jerky, for serving
Cooking Directions
Heat butter in a medium saucepan over medium heat. When melted, add flour and cook, stirring continuously, until roux turns golden brown and begins to smell nutty, about 3 minutes. Add beer, bring to a high simmer, and continue to cook until beer is reduced by half, 4 to 5 minutes. Add shallot and garlic and cook, stirring, until soft, about 2 minutes.
Add cream, thyme, and bay leaf and bring to a simmer, stirring often to prevent boiling over. Continue to simmer until sauce thickens considerably, about 10 minutes. Remove from heat and discard thyme sprig and bay leaf.
Whisk in grated cheeses a handful at a time. Season with salt and pepper. Serve immediately with soft pretzels, chips, and jerky.
Yield: about 1 quart
Recipe courtesy Emeril Lagasse.
This recipe was styled by chef Karen Pickus for Good Morning America.
Recipe Summary
Main Ingredients: butter, flour, salt, thyme
Course: Appetizer/Starter, Dip