Home
>
GMA
>
Recipes Home
>
'GMA's' Ultimate Game Day Grub Contest: Donna Nordby's Cornbread Cheesy Chili Cups
'GMA's' Ultimate Game Day Grub Contest: Donna Nordby's Cornbread Cheesy Chili Cups
Game Day Grub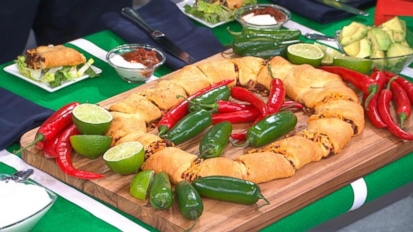 These super fans kick off the festivities with a football food frenzy.
From the kitchen of Donna Nordby
|
"GMA"'s Game Day Grub competition is on! Donna Nordby of Sebastopol, Calif., entered our contest with her recipe for Cornbread Cheesy Chili Cups. What are you making for the big game?
Ingredients
1 package of cornbread (you can also add corn or jalapenos to the mix for a Mexican cornbread).
1 can of chili with beans (hot or mild)
4 slices of American cheese
1/2 cup chopped red onions
Pinch of red pepper flakes
1/4 cup shredded sharp, cheddar or jalapeno cheese
Dollop of sour cream
Cooking Directions
Preheat the oven according to package directions. Lightly grease 12 muffin cups or line with paper baking cups.
Mix cornbread mix and spoon batter into prepared muffin cups, filling each cup 2/3 full. Bake according to directions. Set aside to cool.
In a pan, place chili and mash beans with fork. Add American cheese slices. Melt into chili, add red onions and a pinch of red pepper flakes, stir.
Take the cornbread muffins and hollow out a large spoonful. Scoop hot chili mixture into cornbread muffin. Place shredded cheese on top. Broil in oven just so cheese melts. Pull out of oven and top with sour cream, jalapenos, tomatoes and black olives.
Recipe courtesy of Donna Nordby of Sebastopol, Calif.
This recipe was styled by chef Karen Pickus for Good Morning America.
Other Recipes That You Might Like