'GMA's' Ultimate Game Day Grub Contest: Anna Johansen's Taco Ring
Game Day Grub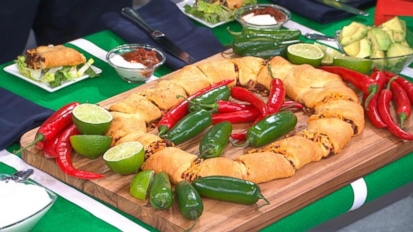 These super fans kick off the festivities with a football food frenzy.
From the kitchen of Anna Johansen
"GMA"'s Game Day Grub competition is on! Anna Johansen of Fort Worth, Texas, entered our contest with her taco ring recipe. What are you making for the big game?
Ingredients
2 cans of refrigerated crescent rolls
1 pound ground beef/turkey/chicken (whatever your diet allows)
1/2 can pinto or black beans
1 cup shredded cheddar or pepper jack cheese (get crazy and do half and half)
1 packet of taco seasoning
Cooking Directions
Brown meat in a skillet and add taco seasonings as directed. While meat is browning, open and drain the can of beans and preheat oven to 350 (or whatever degree the crescent package recommends). Set the browned meat aside to cool while you arrange the crescents.
Arrange the raw crescent triangles on a cookie sheet, with the points of the dough facing out to resemble a sun. Make sure to overlap the 'fat' part of the triangles when making the ring/sun so that all 16 triangles will fit. Spoon the meat onto the inner ring dough, followed by the beans and lastly top the beans with the cheese. Some of the filling will fall into the middle where there isn't any dough but get your hands dirty and force as much as you can onto the dough. Take each point and pull it over the filling, tucking it under itself. This will form the ring. Place in the oven for time recommended on the crescent package or until the dough has browned(usually 20 minutes).
Set out garnishes for the taco ring and dig in!
Optional garnishes
Lettuce
Tomatoes
Salsa
Sour cream or greek yogurt
Avocado
Pickled jalapenos
Recipe courtesy of Anna Johansen of Fort Worth, Texas.
This recipe was styled by chef Karen Pickus for Good Morning America.
Recipe Summary
Main Ingredients: refrigerated crescent rolls, beans, cheese, ground beef or turkey or chicken
Course: Snack, Party Platter, Appetizer/Starter