Ultra Fudgy Gluten-Free Brownies Recipe
Try This Rich-Tasting, Good-for-You Version, Made With Pureed Avocado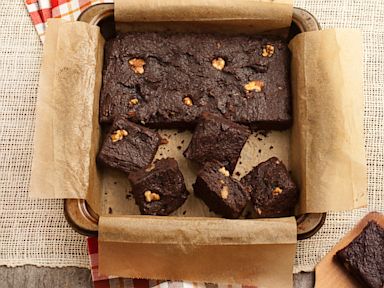 From the kitchen of Ricki Heller
|
Baking a vegan brownie that has an authentically fudgy taste is no small task. Ricki Heller's secret ingredient: pureed avocado. "One of the gripes of vegan bakers is that it's difficult to achieve a brownie texture that is truly fudgy rather than cake-like. Well, here they are: the ultimate fudgy brownies!" she writes in her new cookbook. "The addition of pureed avocado creates a little miracle of chemistry, combined with just ¼ cup (60 ml) oil. The result is one of the richest tasting, fudgiest brownies I've ever had."
Makes 12-18
Ingredients
1/4 cup (60 ml) packed avocado puree (from about 1 small, barely ripe avocado)
3/4 cup (55 g) coconut sugar
1/3 cup (80 ml) coconut nectar
1/2 tsp (2.5 ml) pure stevia powder or 1 tsp (5 ml) plain or vanilla pure liquid stevia, or to taste
2 tsp (10 ml) pure vanilla extract
1/4 cup (60 ml) sunflower or other light-tasting oil, preferably organic
1 Tbsp (15 ml) finely ground flax seeds
1/3 cup (80 ml) unsweetened plain or vanilla almond or soy milk
2 tsp (10 ml) instant coffee substitute or 1 tsp (5 ml) instant coffee (see Ingredients, page 000)
3/4 cup (100 g) Ricki's All Purpose Gluten-Free Flour Mix
1/2 cup (50 g) whole oat flour
3/4 cup (80 g) cocoa powder, preferably non-alkalized
1 Tbsp (15 ml) whole psyllium husks
1/2 tsp (2.5 ml) baking powder
1/4 tsp (1 ml) baking soda
1/4 tsp (1 ml) fine sea salt
1/3 cup (65 g) unsweetened carob chips, dairy-free chocolate chips, or walnut pieces
Cooking Directions
Preheat the oven to 350 degrees F (180 degrees C). Line an 8-inch (20-cm) square pan with parchment paper, or spray with nonstick spray. In the bowl of a food processor, combine the avocado, coconut sugar, coconut nectar, stevia, vanilla, oil, flax, milk, and coffee substitute until smooth. Add the all-purpose flour, oat flour, cocoa powder, psyllium, baking powder, baking soda, and salt and process until combined. Resist the urge to add more liquid; this batter is very thick! Stir in the chips, but do not process again. Turn the batter into the pan and spread evenly (you may need to hold the parchment paper in place with your thumb as you do so, or the batter might pull the paper with it as you spread). Smooth the top.
Bake for 20 to 25 minutes, rotating the pan about halfway through baking, until a tester inserted in the center comes out moist but clean. Do not overbake (longer baking time will result in cake-like brownies).
Cool for at least 15 minutes, then refrigerate until completely chilled before slicing into squares. The brownies will firm up as they chill.
(Alternately, you can freeze the brownies in the pan, then invert onto a cutting board, peel off the parchment paper, and slice into squares). May be frozen.
For Ricki's All Purpose Gluten-Free Flour Mix:
I created this mix after examining the protein (i.e., gluten) content of regular wheat-based all-purpose flour; I wanted a product that would approximate the same ratio of protein to starch as exists in the wheat-based product. This mix of grain, legume, and starches matches the values of wheat flour almost perfectly. I usually mix up a double batch of the flour at a time (I bake a lot!), then store it in a covered plastic food container for easy scooping.
Place all ingredients in a large bowl and stir with a whisk until the flour is evenly blended. Store in an airtight container in the refrigerator if you won't be using it within a week or 10 days (will keep up to 6 weeks in the fridge). Measure as you would wheat-based all-purpose flour. Makes 4 cups.
Note: you can easily make your own millet flour by grinding whole millet grain in a coffee grinder until powdered.
Recipe courtesy of "Naturally Sweet & Gluten Free, Allergy-Friendly, Vegan Desserts," by Ricki Heller. Photographs by Celine Saki.
Other Recipes That You Might Like