Valerie Bertinelli's Pumpkin Pancakes
Pancakes Get Some Fall Spice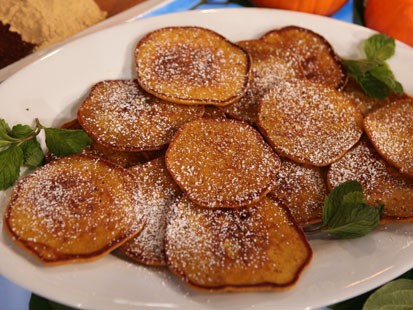 From the kitchen of Valerie Bertinelli
Wolfie looooves pumpkin pie the way I love lemons. Of course, always make it for Thanksgiving, which means I tend to overbuy the canned pumpkin. I'll take the aroma of cinnamon, ginger, and cloves wafting through the house anytime, especially around the holidays, which is when I'm most likely to make these moist, fragrant pancakes. Folding in the whipped egg whites gives them a wonderful lightness.
Ingredients
1 cup all-purpose flour
2 tablespoons sugar
1 teaspoon baking powder
1/2 teaspoon ground cinnamon
1/2 teaspoon ground ginger
Pinch ground cloves
3/4 cup whole milk
2 large eggs, separated
1/2 cup puree solid-pack pumpkin
1/4 cup vegetable oil
Unsalted butter for the skillet
Warm maple syrup
Cooking Directions
Combine the flour, sugar, baking powder, cinnamon, ginger, and cloves in a bowl and whisk to combine. Whisk in the milk, egg yolks, pumpkin, and oil until just combined. In the bowl of a standing mixer fitted with the whisk attachment, beat the egg whites on high until they hold stiff peaks, about 2 minutes. Using a rubber spatula, gently but thoroughly fold the whites into the batter.
Preheat a large well-seasoned cast-iron or nonstick skillet over medium-high heat, and add just enough butter to coat. When a drop of water thrown into the skillet bounces across the surface vigorously, add 1/4-cup dollops of batter, allowing enough room between each for them to spread slightly. Cook until the edges appear cooked, adjusting the heat as necessary, about 3 minutes. Flip and cook about 2 minutes more. Serve warm with the maple syrup.
Per serving (when serving 4): 467 calories, 8 g protein, 63 g carbohydrates, 21 g total fat, 5 g saturated fat, 2 g fiber, 170 mg sodium
Per serving (when serving 8): 285 calories, 4 g protein, 45 g carbohydrates, 11 g total fat, 3 g saturated fat, 1 g fiber, 87 mg sodium
Makes about 16 / Serves 4 for brunch or 8 for breakfast
This recipe was styled by chef Karen Pickus for Good Morning America.
Reprinted from "One Dish at a Time" by Valerie Bertinelli. Copyright (c) 2012 by Valerie Bertinelli. By permission of Rodale, Inc. Available wherever books are sold.
Recipe Summary
Main Ingredients: pumpkin, oil, butter, cinnamon
Course: Breakfast
More Info: Kid Friendly