Valerie Bertinelli's Turkey Soup
A Comfy Fall Soup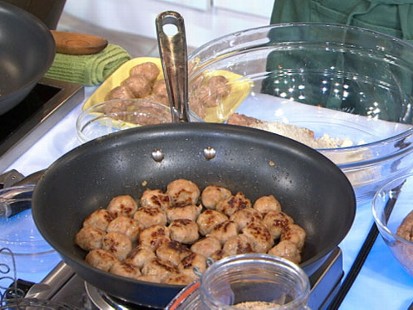 From the kitchen of Valerie Bertinelli
This recipe is the perfect way to use holiday leftovers. The meatballs are great and there's no frying involved!
Ingredients
1/2 white onion, chopped
2 celery stalks, preferably with leaves, chopped
2 carrots pealed, cut into ¼ inch rounds
1 cup of Orzo pasta
2 -32oz cartons low sodium chicken broth
2 cups left over white meat turkey, shredded
2 bay leaves
olive oil
salt & pepper to taste
For the meatballs:
1 Pkg. (1 lb) JennyO ground turkey)
1/2 cup Italian seasoned bread crumbs
1 egg
1/2 cup finely grated Parmigiano Reggiano
1/2 of a white onion finely chopped
2 minced garlic cloves
olive oil
olive oil Pam
salt & pepper to taste
Cooking Directions
Saute onion and celery in 2 tsps. small of olive oil in a big soup pot until soft. Add chicken broth. When it starts to boil, add carrots and orzo. Bring down heat to a medium/low and simmer 5 minutes. Keep an eye on broth, so that it never boils again. Add bay leaf. Start meatballs.
For the meatballs:
Saute onion and garlic in large skillet with 1 tsp. of olive oil until soft, throw into big mixing bowl. Add breadcrumbs, cheese, turkey and egg. Get in there with your bare hands and mix. Roll meatballs into small bite size. It's more time consuming but I like them small.
Spray olive oil cooking spray into the skillet the onions were in, and start cooking the balls in batches, as they
brown throw them into the broth. Gently...don't want them splashing you! Don't worry about them being cooked thru, the broth will take care of that. Let it barely simmer for 15 minutes maybe? Add salt, and pepper to taste, add left over turkey meat, let that heat up and then serve with grated Parmigiano-Reggiano on top.
This recipe was styled by chef Karen Pickus for Good Morning America.
Recipe courtesy Valerie Bertinelli.
Recipe Summary
Main Ingredients: olive oil, chicken broth, turkey, onion, celery stalks
Course: Soup