Vanilla Cupcakes with Fruit Glaze
A white bean purée is an invisible addition to vanilla cupcakes, cutting the fat but not the flavor.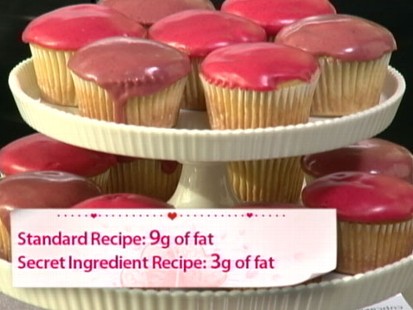 Sarah Carey bakes vanilla cupcakes, chocolate brownies and gingerbread cakes.
From the kitchen of Everyday Food Magazine
Makes 24
|
This Valentine's Day treat is both tasty and beautiful, and replaces some of the butter with a white bean purée that is invisible to the taste buds. The result is a treat that you can enjoy without the guilt.
Ingredients
3 cups all-purpose flour (spooned and leveled)
1 tablespoon baking powder
1 teaspoon baking soda
½ teaspoon fine salt
1 can (15.5 ounces) cannellini beans, rinsed and drained
¼ cup (½ stick) unsalted butter, room temperature
2 cups granulated sugar 2 large eggs, plus 2 large egg whites
1 cup buttermilk
1 tablespoon pure vanilla extract 3 cups confectioners' sugar, sifted
¼ cup fruit purée (from 9 ounces fruit, thawed and drained if using frozen. We used pitted cherries and raspberries for the glaze, but other fruits work, too. Purée the fruit in a blender until smooth, then pass it through a fine-mesh sieve).
Cooking Directions
1. Preheat oven to 350°, with racks in middle and lower thirds. Line 24 standard muffin cups with paper liners. In a large bowl, whisk together flour, baking powder, baking soda, and salt. In a food processor, combine beans, butter, and granulated sugar; process until smooth. With machine running, add eggs and egg whites and process until incorporated. Stir into flour mixture until well combined. Stir in buttermilk and vanilla.
2. Divide batter among muffin cups and bake until puffed and set, about 17 minutes, rotating pans halfway through. Transfer cupcakes to wire racks and let cool completely. These can be stored in an airtight container, up to 3 days.
3. Whisk together confectioners' sugar and fruit purée until smooth. Dip top of each cupcake into glaze, letting excess drip off. Let glaze set, about 15 minutes, before serving.
Per cupcake: 200 cal; 3 g fat (1 g sat fat); 4 g protein;42 g carb; 1 g fiber
Other Recipes That You Might Like