Vegetable Quiche in Gluten Free Almond Crust
A Healthy Food Swap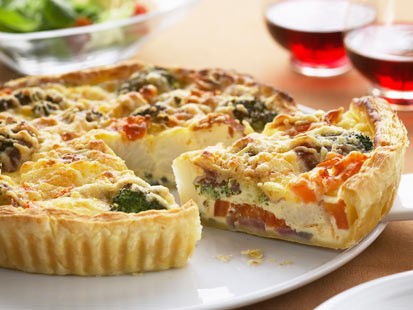 From the kitchen of Gluten-free Expo
|
Ingredients
For the crust:
1 1/2 cups blanched almond flour
1/2 teaspoon salt
1/2 teaspoon baking soda
1/4 cup olive oil
1 Tablespoon water
For the filling:
2 Tablespoons olive oil
1 medium onion, thinly sliced
2 cups broccoli, chopped
1 clove garlic, minced
1/4 cup sun-dried tomatoes
1 cup mushrooms, thinly sliced
3 large eggs, whisked
4 ounces goat cheese
Cooking Directions
For the crust:
Preheat oven to 350 degrees.
In a large bowl, combine almond flour, salt, and baking soda. Stir the wet ingredients into the dry ingredients until thoroughly combined. Press the dough into a 9 1/2" pie pan.
Bake for 15 minutes until golden brown. Remove from the oven and let cool completely before filling.
For the quiche:
Preheat oven to 350.
Heat oil in large skillet over medium hat. Sautee onion in oil for three minutes or until soft and translucent. Add the remaining vegetables and sautee until soft, approximately 6-8 minutes.
In a large bowl, combine the eggs and cheese. Stir in the vegetables and salt.
Pour into crust. Put pie tin on a baking sheet to avoid accidental spills. Bake on middle rack of oven at 350 for 30-35 minute until edges are slightly browned. Let quiche cool for 30 minutes then serve.
Recipe courtesy the Gluten and Allergen Free Expo.
Other Recipes That You Might Like