Home
>
GMA
>
Recipes Home
>
FOOD & WINE's Warm Potato Salad with Pancetta and Brown Butter Dressing
FOOD & WINE's Warm Potato Salad with Pancetta and Brown Butter Dressing
Outdoor Eats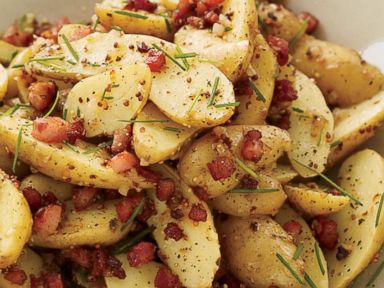 From the kitchen of FOOD & WINE
|
Memorial Day officially kicks off grilling season, and Gail Simmons, FOOD & WINE special projects director and a judge on Bravo's Top Chef, stopped by "Good Morning America" to share the ultimate outdoor dishes. Try FOOD & WINE's recipe for Warm Potato Salad with Pancetta and Brown Butter Dressing below.
Ingredients
Salt
2 pounds fingerling potatoes, sliced 1/2 inch thick
4 tablespoons unsalted butter
3 ounces thickly sliced pancetta, cut into 1/4-inch dice
1 shallot, minced
One 2-inch rosemary sprig
2 tablespoons sherry vinegar
1 tablespoon grainy mustard
Freshly ground pepper
2 tablespoons snipped chives
Cooking Directions
Bring a large saucepan of salted water to a boil. Add the potatoes and cook over high heat until tender, about 10 minutes. Drain, shaking off any excess water.
Meanwhile, in a large skillet, melt 1 tablespoon of the butter. Add the pancetta and cook over moderate heat, stirring frequently, until just beginning to brown, about 3 minutes. Add the remaining 3 tablespoons of butter and cook, stirring occasionally, until the pancetta is golden and the butter is just beginning to brown, about 2 minutes. Add the shallot and rosemary sprig and cook, stirring, for 2 minutes. Remove the skillet from the heat and discard the rosemary sprig.
Whisk the vinegar and mustard into the pancetta mixture; season with salt and pepper. Add the potatoes and the chives and toss until evenly coated. Serve the potato salad warm or at room temperature.
Recipe courtesy of FOOD & WINE magazine.
Recipe styled by Karen Pickus for Good Morning America.
Other Recipes That You Might Like