Tyler Florence's Watermelon Tomato Salad With Feta and Mint
This Watermelon and Tomato Salad Will Impress Your Guests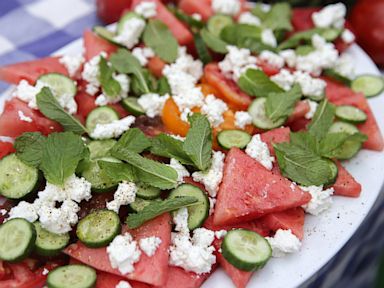 From the kitchen of Tyler Florence
|
Try this watermelon tomato salad recipe from acclaimed chef Tyler Florence to impress your guests. Florence is the owner of several restaurants and the host of Food Network's "Tyler's Ultimate."
Ingredients
1 mini seedless watermelon, about 4 pounds
1 3/4 pounds heirloom tomatoes, sliced
2 Persian cucumbers, sliced
2 Tablespoons extra-virgin olive oil
2 Tablespoons lemon juice
3 oz. feta cheese, crumbled
1/2 cup fresh mint leaves
Salt and Pepper
Cooking Directions
Remove the rind from the watermelon and cut into 3-inch wedges, then thinly slice the wedges. In a large shallow serving bowl, gently toss together the watermelon, tomato and cucumber slices. Drizzle the olive oil and vinegar over the mixture, sprinkle with the cheese and mint and serve immediately.
Other Recipes That You Might Like