Weight Watchers' Baked Ziti with Meatballs
A Healthy, Home-Cooked Meal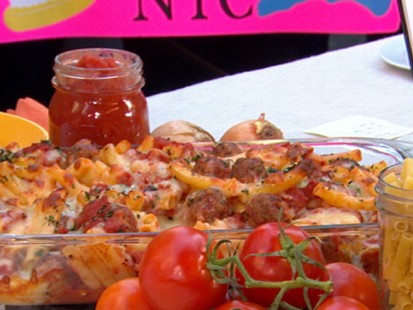 Liz Josefsberg prepares various recipes from the "Weight Watchers 50th Anniversary Cookbook."
From the kitchen of Weight Watchers
Here's an Italian-American all-time favorite, straight from many a Sunday dinner and minus the usual fat and calories. It's a little time-consuming to prepare, but the results are definitely worth it and much can be done ahead of time. If you prefer, substitute lean ground turkey for all or part of the meat.
Ingredients
1 tablespoon olive oil
1 onion, finely chopped
1 (28-ounce) can diced plum tomatoes in juice, drained (reserve the juice)
1 garlic clove, minced
½ pound lean ground beef (7% or less fat)
¼ pound lean ground pork
¼ cup freshly grated
Parmesan cheese
1 cup chopped flat-leaf parsley
½ cup plain dried bread crumbs
3 egg whites, or ¼ cup fat-free egg substitute
1 tablespoon chopped basil, or 1 teaspoon dried
1 teaspoon chopped oregano or marjoram, or ½ teaspoon dried
1 teaspoon chopped thyme, or ¼ teaspoon dried
¼ teaspoon salt
Freshly ground pepper
4 cups ziti
¼ cup shredded part-skim mozzarella cheese
Cooking Directions
Heat a large nonstick saucepan. Swirl in the oil, then add the onion. Sauté until translucent, about 5–8 minutes. Stir in the tomatoes and garlic. Reduce the heat to medium-low; cook, stirring occasionally, until bubbling.
Meanwhile, combine the beef, pork, Parmesan cheese, 1/2 cup of the parsley, the bread crumbs, egg whites, basil, oregano, thyme, salt, and pepper in a large bowl. Form the mixture into 40 walnut-size meatballs, then drop them gently and carefully into the bubbling sauce (watch for splashing).
Reduce the heat to low; simmer, without stirring, until the meatballs are resistant to gentle pressure from a wooden spoon, about 15 minutes. Stir in the remaining 1/2 cup parsley. Continue cooking, stirring occasionally and adding the reserved tomato juice 1/4 cup at a time, until the meatballs are tender and the sauce has thickened, about 20 minutes.
Cook the ziti according to package directions. Drain well, then toss with the sauce and meatballs in a large bowl. (The dish may be made up to a day ahead at this point; just cover and refrigerate until ready to bake.)
Preheat the oven to 400ºF. Spray a 9×13-inch baking dish with nonstick spray. Place the ziti mixture in the baking dish, and sprinkle evenly with the mozzarella. Cover with foil and bake until heated through, 15–20 minutes (if the mixture has been refrigerated, it will take 5–10 minutes longer). Uncover; bake until bubbling and golden on top, 5–10 minutes more.
per serving (1 cup ziti with 5 meatballs): 345 Cal, 8 g Total Fat, 3 g Sat Fat, 29 mg Chol, 554 mg Sod, 47 g Carb, 4 g Fib, 21 g Prot, 139 mg Calc.
PointsPlus value : 8
This recipe was styled by chef Karen Pickus for Good Morning America.
Excerpt from WEIGHT WATCHERS 50TH ANNIVERSARY COOKBOOK. Copyright © 2013 by Weight Watchers International, Inc. All rights reserved. Reprinted with permission of St. Martin's Press.
Recipe Summary
Main Ingredients: salt, pepper, ziti, garlic, beef, onion, olive oil, tomatoes
Course: Dinner, Pasta
More Info: Kid Friendly, Low Saturated Fat