Weight Watchers' Classic Red Velvet Cake
You'll Love This Healthy Version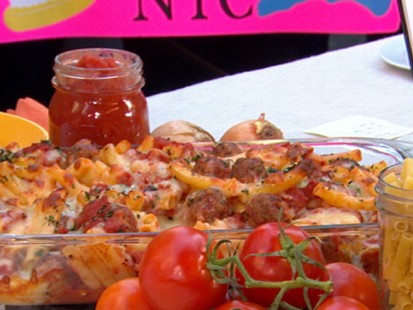 Liz Josefsberg prepares various recipes from the "Weight Watchers 50th Anniversary Cookbook."
From the kitchen of Weight Watchers
|
The original incarnation of this cake was most likely a devil's food cake that obtained a subtle reddish hue from the combination of cocoa powder and buttermilk. When food dyes became popular with home bakers in the 1930s and '40s, however, the cake got a scarlet boost from the addition of red food coloring. Today red velvet is enjoying a resurgence and is wildly popular.
Ingredients
For the cake:
2 cups cake flour
3 tablespoons unsweetened cocoa powder
2 teaspoons baking powder
½ teaspoon baking soda
½ teaspoon salt
¾ cup low-fat buttermilk
¾ cup granulated sugar
3 tablespoons canola oil
1 large egg
2 teaspoons red food coloring
For the frosting:
1 (8-ounce) package fat-free cream cheese, at room temperature
1¼ cups confectioners' sugar
½ cup fat-free Greek yogurt
¾ teaspoon vanilla extract
¼ cup chopped pecans
Cooking Directions
For the cake:
Preheat the oven to 350°F. Spray an 8-inch round baking pan with nonstick spray.
Whisk together the flour, cocoa powder, baking powder, baking soda, and salt in a large bowl. Whisk together the buttermilk, granulated sugar, oil, egg, and food coloring in a medium bowl. Add the buttermilk mixture to the flour mixture and stir until well
blended.
Scrape the batter into the pan. Bake until a toothpick inserted into the center comes out clean, 35–40 minutes. Let cool completely in the pan on a rack. Run a knife around the edge of the cake to loosen it from the pan. Invert onto the rack.
For the frosting:
With an electric mixer on high speed, beat the cream cheese, confectioners' sugar, yogurt, and vanilla in a medium bowl until smooth, about 1 minute.
5 Cake assembly: Split the cake layer in half with a long serrated knife. Place the bottom layer, cut side up, on a serving plate. Spread 1/2 cup of the frosting over the layer, leaving a 1/2-inch border. Place the remaining cake layer on top, rounded side up. Spread the remaining 1 cup frosting over the top and side of the cake. Sprinkle the pecans onto the side of the cake, pressing to adhere. Cover the cake and store in the refrigerator up to 2 days. Bring to room temperature before serving.
per serving (1/16 of cake): 197 Cal, 5 g Total Fat, 1 g Sat Fat, 15 mg Chol, 274 mg Sod, 34 g Carb, 0 g Fib, 5 g Prot, 95 mg Calc.
PointsPlus value: 5
This recipe was styled by chef Karen Pickus for Good Morning America.
Excerpt from WEIGHT WATCHERS 50TH ANNIVERSARY COOKBOOK. Copyright © 2013 by Weight Watchers International, Inc. All rights reserved. Reprinted with permission of St. Martin's Press.
Other Recipes That You Might Like