Weight Watchers' Southern-Style Chicken and Dumplings
A Delicious Weeknight Dinner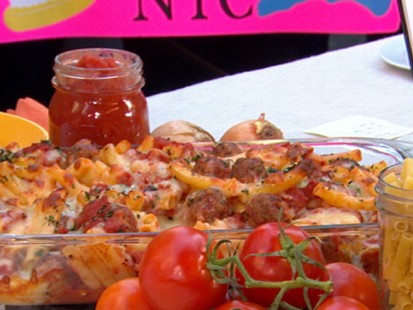 Liz Josefsberg prepares various recipes from the "Weight Watchers 50th Anniversary Cookbook."
From the kitchen of Weight Watchers
|
This comfort classic will bring the alluring aromas of chicken stew and steaming dumplings to your kitchen in record time. It's a terrific recipe for using up leftover roast chicken, or you can purchase precooked roast chicken breast from either the prepared foods case or the refrigerated meat section at
Ingredients
2 teaspoons olive oil
3 celery stalks, chopped
2 carrots, chopped
1 onion, chopped
1 garlic clove, minced
¼ teaspoon dried thyme
4 cups reduced-sodium chicken broth
1½ cups chopped skinless cooked chicken breast
¼ pound green beans, trimmed and cut into ½-inch lengths
¼ cup chopped fresh parsley
1 cup all-purpose flour
½ teaspoon baking powder
¼ teaspoon salt
1/8 teaspoon ground pepper
1 cup water
Cooking Directions
Heat a large saucepan over medium heat until hot. Swirl in the oil, then add the celery, carrots, onion, garlic, and thyme. Cook, stirring occasionally, until the vegetables are softened, 5 to 6 minutes. Add the broth and chicken. Bring to a boil; reduce the heat, cover, and simmer 10 minutes. Add the green beans and simmer until the vegetables are tender, 10–15 minutes. Stir in the parsley.
Meanwhile, combine the flour, baking powder, salt, and pepper in a medium bowl. Stir the water into the flour mixture just until moistened. Drop the dough, by rounded teaspoonfuls, onto the simmering stew, making 12 dumplings. Cover and simmer until the dumplings have doubled in size and are cooked through, 15–20 minutes.
per serving (11/2 cups chicken mixture with 3 dumplings):
277 Cal, 5 g Total Fat, 1 g Sat Fat, 43 mg Chol, 939 mg Sod, 34 g Carb, 4 g Fib, 24 g Prot, 113 mg Calc.
PointsPlus value : 7
This recipe was styled by chef Karen Pickus for Good Morning America.
Excerpt from WEIGHT WATCHERS 50TH ANNIVERSARY COOKBOOK. Copyright © 2013 by Weight Watchers International, Inc. All rights reserved. Reprinted with permission of St. Martin's Press.
Other Recipes That You Might Like