Duck Dynasty Willie's Armadillo Eggs
Reality Family Recipe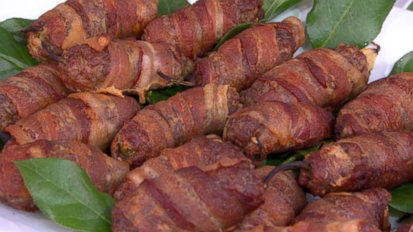 The cast of the hit show share treats from the new cookbook "Miss Kay's Duck Commander Kitchen."
From the kitchen of Duck Dynasty
America's favorite reality TV family, the Robertson's of Duck Dynasty, stopped by "Good Morning America" to share their go-to recipes from Miss Kay's cookbook, "Miss Kay's Duck Commander Kitchen" to make in their home. Try her recipe for Willie's Armadillo Eggs here.
Ingredients
6 to 8 large jalapeño peppers, cut in half lengthwise, seeds and ribs removed
1 package (8 ounces) cream cheese, softened
2 pounds breakfast sausage, formed into 12 to 16 patties
1 pound bacon, sliced thin
1 stick (¼ pound) butter, melted
Cooking Directions
If you're using a grill, heat it to medium. If not, heat the oven to 400ºF. Fill each jalapeño half with cream cheese. Mold sausage around each jalapeño half, making sure to cover the entire jalapeño. Wrap each "armadillo egg" with a slice of bacon.
Cook the eggs on an open grill until the sausage is cooked through and the bacon is crispy. If you don't have an outdoor grill, bake in the oven for 15 to 20 minutes, then broil until the bacon is crispy.
Remove the eggs from the grill or oven and cover with melted butter.
Recipes courtesy "Miss Kay's Duck Commander Kitchen"
Recipes styled by Karen Picks for "Good Morning America."
Recipe Summary
Main Ingredients: jalapeño peppers, cream cheese, sausage, bacon, butter
Course: Appetizer/Starter