Duck Dynasty Willie's Crazy Bread
Reality Family Recipe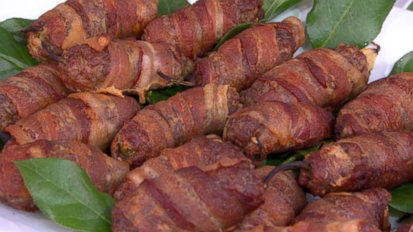 The cast of the hit show share treats from the new cookbook "Miss Kay's Duck Commander Kitchen."
From the kitchen of Duck Dynasty
|
America's favorite reality TV family, the Robertson's of Duck Dynasty, stopped by "Good Morning America" to share their go-to recipes from Miss Kay's cookbook, "Miss Kay's Duck Commander Kitchen" to make in their home. Try her recipe for Willie's crazy bread here.
Ingredients
1 loaf French bread (12 inches long and about 9 ounces)
1 stick (¼ pound) butter, melted
1 cup shredded mozzarella cheese
1 teaspoon garlic salt
4 slices bacon, cut in thirds crosswise
Cooking Directions
Heat the oven to 400ºF. Slice the bread about 1 inch thick without cutting all the way through. Place the bread on the cookie sheet. Pour butter between the slices, then stuff cheese between the slices. Sprinkle with garlic salt. Top the bread with the bacon slices without overlapping them.
Bake until the cheese has melted, about 5 minutes. Turn the oven to broil and cook the bacon to your taste.
Recipes courtesy "Miss Kay's Duck Commander Kitchen"
Recipes styled by Karen Picks for "Good Morning America."
Other Recipes That You Might Like