Wolfgang Puck's Barbecue Chicken Pizza
A Cure for Carb Cravings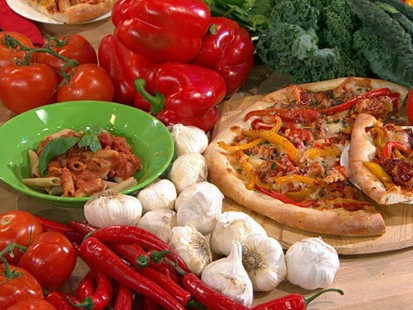 Ellen Kunes, Frances Largeman-Roth explain how to lose weight and eat great.
From the kitchen of The CarbLovers Diet Cookbook
|
Wolfgang Puck is the master chef/owner of over 20 fine-dining establishments and more than 80 fast cafes and bistros around the world. In addition to his impressive restaurant portfolio, Puck has established catering operations in 16 major markets. He's also created a line of Wolfgang Puck housewares.
Ingredients
2 teaspoons olive oil
1 cup thinly sliced yellow and red bell peppers
All-purpose flour for rolling
1 pound refrigerated pizza dough
½ cup grated mozzarella cheese
½ cup fontina cheese
1½ cups cooked chicken breast, cut into 1-inch pieces
¼ cup barbecue sauce, warmed
¼ teaspoon salt
¼ teaspoon pepper
¼ cup chopped flat-leaf parsley
Cooking Directions
Preheat oven to 500º.
Heat oil in a medium skillet over medium-high heat; sauté peppers for 2 minutes. Set aside. Roll out pizza dough to a 15-inch round on a lightly floured surface; top with cheeses and sauteéd peppers. Transfer to a baking pan. Bake pizza for about 12 minutes or until crust is golden brown.
Meanwhile, warm up chicken. Toss warm chicken pieces with barbecue sauce. Remove pizza from the oven; evenly arrange chicken on top. Sprinkle with salt and pepper, and top with parsley. Cut pizza into slices; serve.
Serving size: 1/5 of pizza Calories 414; Fat 10.7g (sat 4g, mono 3.3g, poly 0.8g); Cholesterol 54mg; Protein 27g; Carbohydrate 49g; Sugars 6g; Fiber 7g; Iron 2mg; RS 2.6g; Sodium 804mg
Recipe courtesy The CarbLovers Diet Cookbook.
This recipe was styled by chef Karen Pickus for Good Morning America.
Other Recipes That You Might Like