Wolfgang Puck's Mashed Potatoes
With $15 Worth of Groceries Chef Wolfgang Puck Creates Brand-New Recipe: Get It Here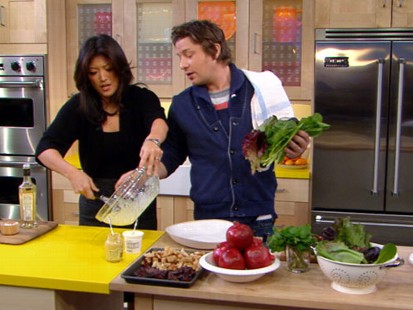 Jamie Oliver has a great appetizer to start out your big family feast.
From the kitchen of Wolfgang Puck
As part of "GMA's" $15 Dinner Dare series, each day an anchor will unveil a list of secret ingredients. Then a chef will have to prepare a tempting meal live on the air with the newly unveiled ingredients.
Wolfgang Puck is the fourth and final chef to take on the challenge. Robin Roberts gave him a list of surprise ingredients live on the air today.
Ingredients
3 tbsps. salt
5 lbs. small russet potatoes, peeled and cut into thirds
1 stick butter, softened
1/2 c. milk
1 c. yogurt
Salt and pepper
Cooking Directions
Place peeled potatoes in a large stockpot and cover with water. Season the cooking water with 3 tablespoons of salt. Boil covered for 15-20 minutes, until tender and easily pierced with a fork.
Drain potatoes and mash to desired consistency. Add butter, milk, yogurt and season with salt and pepper to taste. Serve warm.
*Recipe courtesy of Wolfgang Puck
Recipe Summary
Main Ingredients: butter, milk, potatoes, yogurt
Course: Brunch, Dinner, Side Dish, Starch