Wolfgang Puck's Mediterranean Grilled Vegetable Salad
Fire Up Your Grills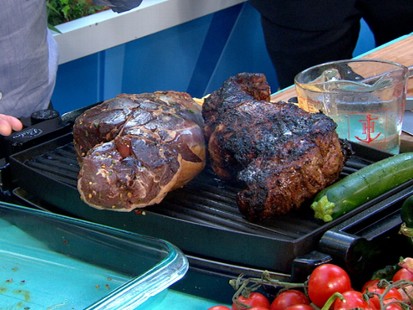 Famous chef prepares two entrees perfect for the beginning of the spring season.
From the kitchen of Wolfgang Puck
This grilled salad is delicious mixed with goat cheese, arugala and feta. It's the perfect side dish for easter or accompaniment to a summer barbecue.
Ingredients
1 medium eggplant
1 medium zucchini
1 medium yellow squash
1 medium fennel bulb
1 small red onion
8 asparagus spears
3/4 cup extra-virgin olive oil
Salt
Freshly ground black pepper
1/2 cup pitted and halved Kalamata olives
1 cup arugula
1/2 cup organic crumbled feta cheese or goat cheese (optional)
3 tablespoons lemon juice
3 tablespoons balsamic vinegar
1/4 cup (60 ml) chopped fresh parsley leaves
Cooking Directions
Cut the eggplant, zucchini, and squash diagonally into slices 1/2 inch thick. Trim the fennel and cut crosswise into slices 1/2 inch thick. Peel the onion and cut crosswise into slices 1/2 inch thick. Trim the asparagus.
With 1/2 cup of the olive oil, coat all the vegetables. Season with salt and pepper. Set the vegetables aside.
Build a fire in a charcoal grill, or preheat a gas grill, for indirect-heat cooking.
When the fire is hot, place the vegetables on the cooking grid not directly above the heat. Cook, turning as necessary to prevent scorching, until are nicely browned and tender-crisp, 5 to 7 minutes total cooking time. As they are done, transfer the vegetables to a platter and leave to cool.
Cut the grilled vegetables into 1-inch pieces.
Put all the vegetables, olives, arugula and feta or goat cheese (if desired) in a large salad bowl. Add the remaining olive oil, lemon juice, balsamic vinegar, and salt and pepper to taste. Toss well.
Serve with Roasted Leg of Lamb East/West With Oregano And Mint.
This recipe was styled by chef Karen Pickus for Good Morning America.
Recipe courtesy Wolfgang Puck.
Recipe Summary
Main Ingredients: balsamic, parsley, pepper, eggplant, zucchini, squash
Course: Salad