Wolfgang Puck's Mediterranean Strata With Sweet Italian Sausage
Perfect for Brunch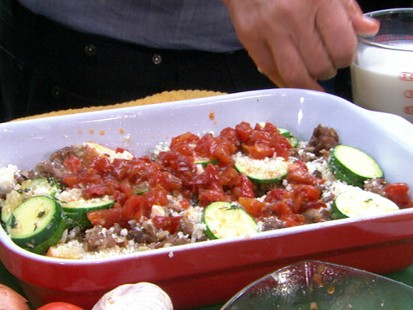 Celebrity chef prepares a Mediterranean feast perfect for Mother's Day.
From the kitchen of Wolfgang Puck
|
This Mediterranean Strata is a delicious savory brunch item. Fresh herbs and assorted veggies make this strata the perfect way to usher in spring.
Ingredients
3/4 pound sweet Italian sausage
3 tablespoons olive oil
1/2 cup onion, chopped
1 tablespoon finely chopped fresh thyme
1 cup organic zucchini, sliced
1/2 cup sun dried or oven roasted tomatoes, coarsely chopped
1/2 pound stale rosemary country bread or French bread, cut in 3/4-inch slices
1 garlic clove, cut in half
1 cup loosely packed freshly grated Parmesan cheese
6 cage-free eggs, slightly beaten
2 cups milk
1/2 teaspoon powdered mustard
3/4 teaspoon Kosher salt
Freshly ground pepper
For the tomato basil sauce:
4 large, firm, ripe organic tomatoes, peeled, seeded, and finely chopped
2 shallots, minced
1 bunch fresh organic basil leaves, chopped (about 2/3 cup)
Grated zest of 1/2 organic lemon
1/2 cup extra-virgin olive oil
2 tablespoons sherry wine vinegar
1 tablespoon minced fresh organic chives
1 tablespoon minced fresh organic tarragon
Salt and freshly ground black pepper
Cayenne pepper
Cooking Directions
Heat a large, heavy skillet over medium-high heat and add the sausage. Sauté, breaking it up into bite-sized chunks with a wooden spoon until cooked through and lightly browned, 5 to 7 minutes. With a slotted spoon, transfer the sausage pieces to paper towels to drain and cool.
Heat the olive oil in a pan over medium high heat and sauté the onions and thyme until translucent. Add zucchini and tomatoes. Sautee until lightly caramelized.
Oil a 12 x 10-inch baking or gratin dish. Rub the bread slices with the cut clove of garlic and spread in a single layer over the bottom of the baking dish. Sprinkle half the cheese over the bread, top with the sausage, the sautéed vegetables and finish with the remaining cheese. Cover and refrigerate until ready to bake.
Preheat the oven to 350 degrees F. Beat together the eggs, milk, mustard, salt and pepper. Pour over the bread mixture. Bake 45 minutes to an hour, until the top is browned and the mixture is slightly puffed. If desired, serve with Tomato Basil Sauce. (Recipe follows).
For the Tomato Basil Sauce:
In a nonreactive mixing bowl, stir together the chopped tomatoes, shallots, basil, lemon zest, olive oil, vinegar, chives, and tarragon. Season to taste with salt, pepper, and a little cayenne. Cover the bowl and leave at room temperature to marinate for several hours or overnight (if your kitchen is very hot, refrigerate.)
Recipe courtesy Wolfgang Puck
This recipe was styled by chef Karen Pickus for Good Morning America.
Other Recipes That You Might Like