Wolfgang Puck's Roasted Leg of Lamb East/West with Oregano and Mint
A Great Spring Dish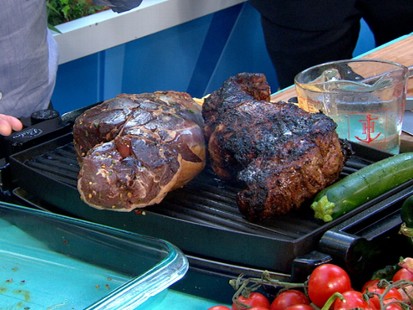 Famous chef prepares two entrees perfect for the beginning of the spring season.
From the kitchen of Wolfgang Puck
This lamb dish is the perfect dish for spring. Fire up the grill and enjoy a meal outside with this spring dish.
Ingredients
1 2 to 3 pound boned leg of spring lamb
For the Marinade:
1 cup light soy sauce
2 tablespoons honey
1 tablespoon dried red chile flakes
1/2 cup chopped scallions or green onions
3 garlic cloves finely chopped
For the Oregano Mint Vinaigrette:
12 fresh oregano leaves
1/4 cup fresh mint
1/4 cup Italian parsley
2 tablespoons greek yogurt
1/4 cup pine nuts
1 tablespoon honey
1 tablespoon dried mustard
1 cup peanut oil
Salt
Freshly ground black pepper
Cooking Directions
Prepare the marinade: In a bowl, mix together all the marinade ingredients. Pour it over the lamb and let it marinate for at least 3 hours.
While the lamb is marinating, prepare the vinaigrette. Place all the ingredients except the oil in a blender and puree. Then slowly add the peanut oil until it forms a thick vinaigrette. Correct the seasonings. Remove from the blender and refrigerate until ready to use.
Preheat a grill or oven to 450 degrees F. Remove the lamb from the marinade and pat dry with paper towels. Season to taste with salt and pepper and drizzle with a little olive oil.
Roast or grill the lamb until medium rare, about 140 degrees F. Remove meat from the grill or oven and let it rest for about 20 minutes in a warm place.
Presentation: Equally divide the Grilled Vegetable Salad onto the center of 4 plates. Thinly slice the lamb and place around the salad. Drizzle with Oregano Mint Vinaigrette.
This recipe was styled by chef Karen Pickus for Good Morning America.
Recipe courtesy Wolfgang Puck.
Recipe Summary
Main Ingredients: lamb, soy sauce, green onions, garlic
Course: Dinner
More Info: Kid Friendly