Ann Romney's Zucchini Casserole
A Tasty Way to Eat Your Vegetables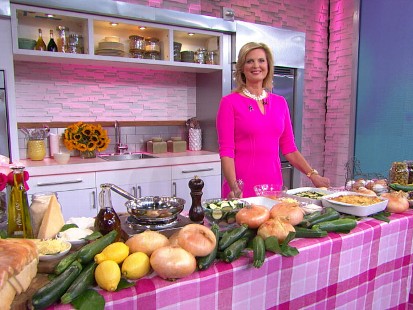 Wife of 2012 presidential candidate on new cook book "The Romney Family Table."
From the kitchen of Ann Romney
Ann Romney is a mother of five and grandmother to 22. In her new cookbook, "The Romney Family Table: Sharing Home-Cooked Recipes & Favorite Traditions," Romney shares recipes that have kept her family well fed and happy.
Ingredients
1 cup diced Vidalia onion
2 tablespoons olive oil, divided
4 cups sliced zucchini
3/4 cup grated Gruyere or Parmesan cheese
4 eggs, beaten
1/4 cup dry bread crumbs
2 tablespoons melted butter
Cooking Directions
Preheat oven to 350 degrees F. In a skillet, saute the onion in 1 tablespoon olive oil. Grease an 8x8-inch baking dish with remaining 1 tablespoon olive oil; add zucchini and sauteed onions in layers. Sprinkle with cheese. Pour beaten eggs over the cheese. Top with bread crumbs. Drizzle butter on top. Bake 50 minutes.
Reprinted with permission from "The Romney Family Table." Photography credit: Mark Louis Weinberg.
Recipe Summary
Main Ingredients: onion, cheese, zucchini, bread crumbs, butter
Course: Dinner, Casserole, Side Dish, Starch, Vegetable