Wolfgang Puck's Prime Mini Burgers with Cheddar Cheese and Remoulade
Prime Burgers With Cheddar Cheese and Remoulade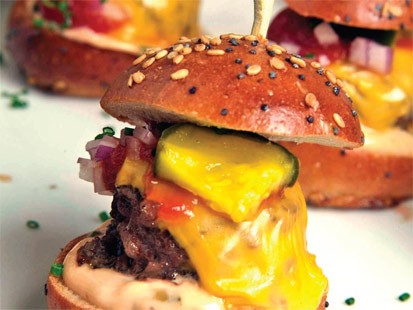 From the kitchen of Wofgang Puck
This recipe for delicious mini-burgers is part of Wolfgang Puck's menu for the 2010 Governor's Ball on Oscar night.
-Recipe courtesy Wolfgang Puck Catering
Ingredients
For the Burgers:
3/4 pound prime ground beef, such as Kobe-style
Pinch of kosher salt
Freshly ground black pepper
4 tablespoons extra-virgin olive oil
12 small slices of cheddar cheese
12 mini sesame brioche buns
Remoulade (recipe follows)
Arugula leaves
6 cherry tomatoes, sliced
3 cornichons, sliced
For the Remoulade:
3/4 cup Thousand Island Dressing (store-bought or homemade)
2 tablespoons bottled barbeque sauce
Little bit of diced red onion
Cooking Directions
For the Burgers:
Preheat grill or grill pan.
Put the ground beef in a bowl and season with a generous pinch of salt and pepper. Mix together with
your hands to combine. Take a small amount (about 2 tablespoons worth) of the ground beef and roll it
in the palm of your hand like you are making meatballs. Flatten the top slightly and put the mini burger patties
on a side plate.
Drizzle the burgers with oil and season the tops with salt and pepper. Turn the burgers over
and season the other side.
Place the burgers on the hot grill. Cook for 3 minutes, then turn them over with tongs.
Place slices of cheddar cheese on top of the burgers, allowing it to melt. While that's cooking, put the buns on the grill. Let them toast slightly on both sides, about 2 minutes total time.
To put the burgers together: Put the toasted buns on a platter. Top each with a small spoonful of Remoulade.
Put the burger on top (cheese side up), followed by an arugula leaf, a slice of tomato and a slice of cornichon.
This recipe yields 12 mini-burgers.
For the Remoulade:
Combine 3/4 cup of store-bought or homemade Thousand Island dressing with 2 tablespoons of bottled
barbecue sauce and a little bit of diced red onion. Stir to combine.
Recipe Summary
Main Ingredients: prime ground beef, cheddar cheese, brioche buns, remoulade
Course: Dinner, Appetizer/Starter, Party Platter, Main Course