Scott Peacock's Salad Dressing
Easy to Make Zesty Dressing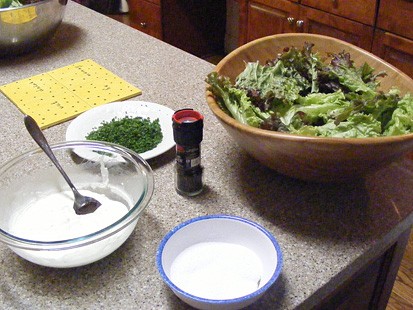 From the kitchen of Scott Peacock
Ingredients
1 large clove of garlc
1 tablespoon freshly squeezed lemon juice, plus a bit more if needed
3/4 cup creme fraiche
salt and pepper, to taste
Cooking Directions
Split the garlic clove lengthwise, remove the germ and discard. Chop the garlic, sprinkle with a large pinch of kosher salt and use the side of a chef's knife to rub to a smooth paste. Mix the garlic paste and lemon juice together and let sit for 10 minutes.
Whisk in creme fraiche and season carefully with salt and freshly ground pepper. Add a few drops of lemon juice if needed.
Dress butter lettuce and toss with lots of finely sliced chives.
Recipe Summary
Main Ingredients: garlic, lemon juice, creme fraiche, pepper
Course: Salad, Dressing