'Once a Year' Spinach Salad with Bacon Drippings
Serve as an Appetizer or Side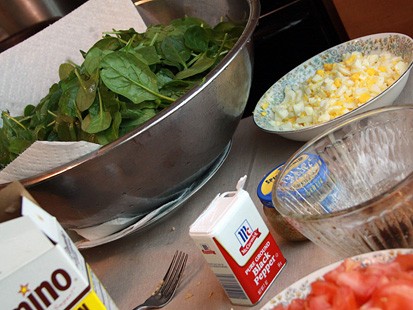 From the kitchen of Feasty Boys
The Feasty Boys, Jon Mayer and Jim Stump, have this to say about their version of a spinach salad: "Don't tell your cardiologist about this one, but once a year ain't gonna kill ya!"
Ingredients
1 lb. bacon, cooked and chopped
6 eggs, hard boiled and chopped
3 packages fresh spinach
4-5 mushrooms, sliced
1 bunch green onions, chopped
2 tomatoes, diced
1 tsp chopped garlic
3 tbsp brown sugar
2/3 cup balsamic vinegar
paprika, to taste
salt, to taste
pepper, to taste
Cooking Directions
Carefully remove stems from spinach leaves and tear into bite-sized pieces. Place spinach in a large colander and submerge in cold water.
In a large pan over medium heat, fry bacon until done. "Flimsy" bacon is recommended over cripy bacon. Remove and allow to drain on a paper towel. Reserve 6 tablespoons of drippings and dispose of the rest, being careful not to lose all the sediments at the bottom of the pan.
Returning the reserved drippings to the pan, add the green onion and garlic and sauté over medium heat. Add vinegar and brown sugar and continue to heat until sugar has dissolved and the onions begin to brown. Remove from heat and set aside.
Drain the cleaned spinach and place in a large serving bowl. Carefully pour the hot dressing over the spinach, stirring constantly to evenly distribute dressing. The spinach will start to wilt. Keep stirring until all of the spinach is coated. Sprinkle the chopped egg with paprika to taste and sprinkle evenly over the salad with the diced tomato. Season with salt and pepper to taste.
Recipe Summary
Main Ingredients: spinach, bacon, hard-boiled eggs, tomatoes, mushrooms
Course: Vegetable, Side Dish, Salad