Scott Peacock's Braised Chicken Thighs
Chicken thighs Braised with Garlic, Onion, and Mushrooms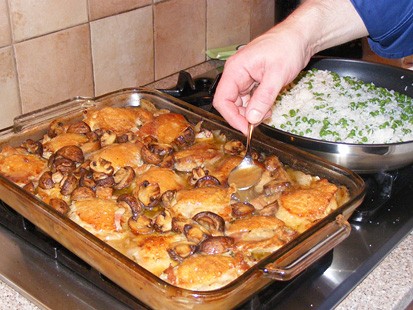 From the kitchen of Scott Peacock
Ingredients
8 chicken thighs
kosher salt and freshly ground black pepper
2 tablespoons vegetable or olive oil
2 tablespoons butter
3 large onions, peeled and sliced into 1/3-inch wedges
one slice bacon, preferably country cured, cut into 1/3-inch dice
8 small to medium garlic cloves, peeled, sliced in half lengthwise, germ or sprout removed
1/2 teaspoon dried thyme
1/2 pound cremini mushrooms (other varieties may be used), cut in half lengthwise
1/2 cup white wine
3/4 cup chicken stock or water
Cooking Directions
Preheat the oven to 325 F.
Trim the chicken thighs of any excess skin, leaving just enough to cover the surface of the meat. Pat them dry with paper towel and season generously all over with salt. If time allows, let sit refrigerated for an hour or more, up to 2 days, before proceeding with the recipe, which will improve the flavor of the chicken, though perfectly delicious results may be achieved by cooking immediately.
In a large saute pan, heat 2 tablespoons of vegetable or olive oil over moderate heat. Without crowding, place the thighs skin side down in the pan and cook until a deep golden brown--5-7 minutes. this is an important step.The relatively slow browning renders out much of the fat from the skin of the chicken, making for a leaner, more refined dish. And the careful browning develops wonderful flavor and color. Turn chicken and brown the other side, which will take much less time than the skin side. Remove from pan and set aside.
Pour most of the oil and rendered chicken fat from the pan, leaving behind any browned bits of flavor. Add 1 tablespoon butter, the onions and diced bacon. Season with salt and a few grinds of pepper. Cook, stirring often, until onions begin to soften. Then add the garlic and thyme and cook 2 to 3 minutes longer. Taste carefully for seasoning and transfer onion mixture to a baking dish just large enough to hold the chicken in a single layer. Arrange the browned thighs in a single layer, skin side up, and nestle them in the onions.
Heat the remaining tablespoon of butter in the skillet and brown the mushrooms, seasoning with salt and pepper to taste. once browned, add the wine and chicken stock to the pan and bring to a boil.
Pour the mushrooms and liquid over the chicken and onions. Place a layer of parchment over the chicken. Cover tightly with a double thickness of foil.
Cook in preheated oven for approximately 40 minutes, until chicken is tender. remove foil and parchment and increase oven temperature to 375F. Cook uncovered for 10 minutes or so, basting if needed, until well browned and caramelized.
Recipe Summary
Main Ingredients: chicken, mushrooms, garlic
Course: Dinner, Main Course