Dark Chocolate Almond Cake
From 'Chef's Table'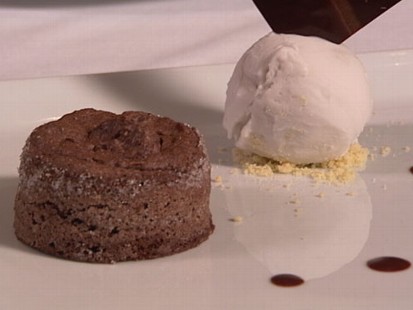 Telepan executive chef Bill Telepan keeps the flavor without raising the flour.
From the kitchen of Bill Telepan
|
Ingredients
2 1/4 c almond flour
1/3 c plus 1 heaping TBS cocoa powder
5 large egg whites
1 c sugar
2 tbs margarine or butter
11/2 c dark chocolate chips
Cooking Directions
Spray ring molds or aluminum cups well and dip in sugar. Shake off excess.
Place almond flour and cocoa powder in a medium bowl. Whisk the almond flour and cocoa powder together until uniform in color. Set aside. Place egg whites and 3/4 c sugar in the bowl of an electric mixer. Using the whisk attachment, whisk on medium speed until thick.
Add the remaining 1/4 c of sugar and continuing whipping until it is incorporated and the whites are very fluffy and thick. Place butter in a small pot and melt on the stove top. Spoon the whites into the bowl with the almond flour and cocoa powder. Using a spatula fold gently until the whites and almond flour are mixed. Look to incorporate all the dry ingredients and that there are no whites still unfolded. Don't let mixture become to dark, do all the folding gently.
Take about 1/2 c of the mixture and fold into the melted butter.
Mix well and pour mixture back into the whites, almond flour, cocoa powder mixture. Pour in chips and fold the butter mixture and chips into the batter about 3 times.
Fill prepared molds half way. Bake at 350 degrees until cakes feel a little spongy and they begin to crack on top.
Other Recipes That You Might Like