Hummus Heads
Meals for Happy, Healthy Kids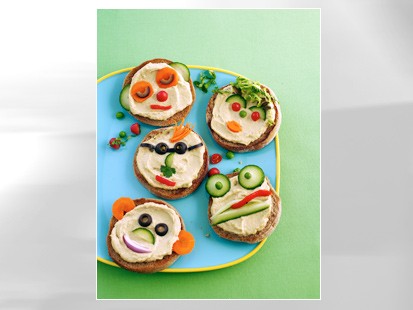 From the kitchen of Weight Watchers
In addition to decorating their own sandwiches, kids can use plastic knives to halve the cherry tomatoes and slice the black olives.
Ingredients
2 romaine lettuce leaves, cut into very thin strips
1/4 cup drained bottled roasted red pepper strips
8 cherry tomatoes, halved
4 pitted black olives, sliced
1 Kirby cucumber, sliced
2 whole wheat English muffins, split in half and toasted
1/2 cup hummus
Cooking Directions
Place the lettuce, red pepper strips, tomatoes, olives and cucumber slices in piles on a plate. Spread the English muffins with the hummus, then use the vegetables to make funny faces on them: lettuce or pepper strips can be hair; tomato or olives can be eyes; cucumber slices can be ears -- use your imagination, adding any vegetables you like and have fun!
Per serving (2 decorated English muffin halves): 279 Cal, 9 g Fat, 1 g Sat Fat, 0 g Trans Fat, 0 mg Chol, 819 mg Sod, 42 g Carb, 10 g Fib, 12 g Prot, 218 mg Calc.
Recipe Summary
Main Ingredients: romaine lettuce, red peppers, tomatoes, olives, cucumber, hummus
Course: Lunch, Snack
More Info: Kid Friendly, Low Fat