Watermelon Cake With Raspberry Sauce
A Dessert for Happy, Healthy Kids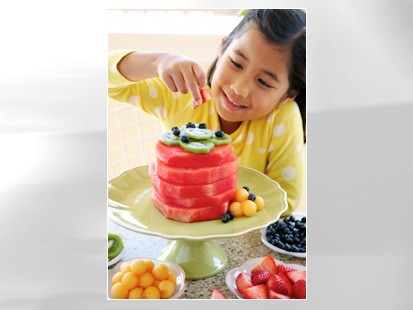 From the kitchen of Weight Watchers
|
Keep at least one kind of fruit, washed and cut up, in a clear storage container in the fridge where kids can see it and grab it. Choose fruit that doesn't brown with exposure to oxygen, such as berries, citrus fruits, melons or pineapple.
Ingredients
1/2 watermelon
1 small cantaloupe, halved and seeded
3 kiwi fruits, peeled and sliced
1 pint blueberries
1 pint strawberries, hulled and halved
1 1/2 cups frozen unsweetened raspberries, thawed
3 tablespoons orange juice
2 tablespoons sugar
Cooking Directions
Cut the watermelon into round slices, each about 1 1/2 inches thick. Cut off the rind. Stack the watermelon circles on a large serving platter so that they resemble a cake.
Use a melon baller to scoop out balls from the cantaloupe. Decorate the top of the watermelon cake and the plate around it with cantaloupe balls, kiwi slices, blueberries, and strawberries.
Combine the raspberries, orange juice, and sugar in a blender and pulse until smooth. Pour the mixture into a fine strainer set over a bowl. Use a spoon to stir and press the sauce through the holes in the strainer. Discard the raspberry seeds.
To serve, cut the watermelon cake into wedges and serve with a few spoons of fruit and a drizzle of raspberry sauce.
Per serving (1 1/2 cups fruit and 1 tablespoon sauce): 83 Cal, 1 g Fat, 0 g Sat Fat, 0 g Trans Fat, 0 mg Chol, 7 mg Sod, 19 g Carb, 2 g Fib, 2 g Prot, 20 mg Calc.
Serves 16
Other Recipes That You Might Like