Carrot-Apple Cupcakes With Cream Cheese Frosting
A Dessert for Happy, Healthy Kids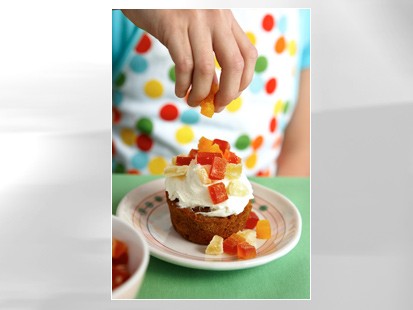 From the kitchen of Weight Watchers
Ingredients
1 1/4 cups all-purpose flour
2/3 cup granulated sugar
2 medium carrots, shredded
1 apple, peeled, cored, and shredded
1/3 cup golden raisins
1/4 cup sweetened flaked coconut
1 teaspoon grated orange zest
1 teaspoon cinnamon
1 teaspoon baking soda
1/4 teaspoon salt
2 large eggs, lightly beaten
1/4 cup canola oil
6 ounces fat-free cream cheese, at room temperature
1/4 cup confectioners' sugar, sifted
1 teaspoon vanilla extract
1 tablespoon milk
1/3 cup mixed dried fruits for decorating tops (optional)
Cooking Directions
Preheat the oven to 350ºF. Spray a 12-cup muffin pan with nonstick spray.
Stir the flour, granulated sugar, carrots, apple, raisins, coconut, orange zest, cinnamon, baking soda and salt together in a large bowl. Beat the eggs and oil together in another bowl. Stir the egg mixture into the flour mixture just until combined. Spoon the batter evenly into the muffin cups and bake until a toothpick inserted into the center of each cupcake comes out clean, 20-25 minutes. Cool in the pan on a rack 5 minutes; remove the cupcakes from the pan and cool completely on the rack.
To make the frosting, combine the cream cheese, confectioners' sugar, vanilla and milk in the bowl of an electric mixer and beat just until creamy. Spread the frosting over the cooled cupcakes. Make faces or designs on top of the cupcakes with the dried fruit, if using.
Serves 12
Per serving (1 frosted cupcake): 202 Cal, 6 g Fat, 1 g Sat Fat, 0 g Trans Fat, 38 mg Chol, 262 mg Sod, 32 g Carb, 1 g Fib, 5 g Prot, 81 mg Calc.
Recipe Summary
Main Ingredients: flour, sugar, carrots, apples, raisins, cinnamon, cream cheese, milk
Course: Party Platter, Snack, Dessert
More Info: Kid Friendly, Low Fat