Chicken Cutlet Sandwich with Herb Mayonnaise
Money-Saving Meals for Spring Fling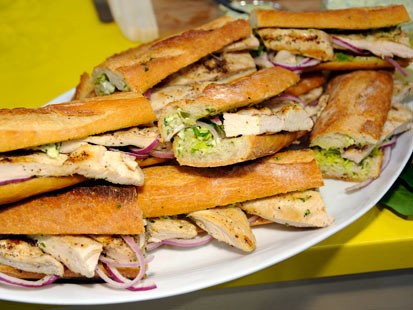 From the kitchen of Sandra Lee
|
Ingredients
11/2 pounds bone-in chicken breast
Kosher salt, to taste
Freshly ground black pepper, to taste
Canola oil, for brushing
1/2 cup mayonnaise
1 tablespoon spicy brown mustard
Zest of 1 lemon, save the juice for the Scones
2 tablespoons chopped parsley
Fennel fronds
1 baguette, about 16 inches long
1/2 red medium onion, sliced thin
1/2 small head lettuce, shredded
Cooking Directions
Heat your grill or a grill pan over medium-high heat. Remove the skin from the chicken and take the chicken off the bone. Slice the breast diagonally across to make 4 thin pieces. Pound the chicken lightly between 2 pieces of plastic wrap. Season the cutlets with salt and pepper and brush them with a little oil. Grill the cutlets until cooked through, about 5 minutes per side. Remove from the pan and let cool.
Put the mayonnaise into a bowl with the mustard, lemon zest, parsley, and fennel fronds and whisk to combine. Check the seasoning and add salt, and pepper to taste. Cut the baguette in half lengthwise. Spread the herb mayonnaise on the bottom slice. Top with the chicken, onions, and lettuce. Spread the remaining mayonnaise on the other slice and place it on top. Cut the sandwich into 4 pieces and wrap well in wax paper or plastic wrap.
-Food styled by Karen Pickus.
Other Recipes That You Might Like