Veal Alla Milanese
From 'Chef's Table'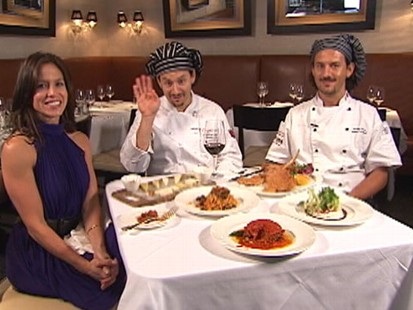 Quattro chef Fabrizio Carro creates a hearty Italian dish.
From the kitchen of Nicola & Fabrizio Carro
|
Ingredients
For the Veal Alla Milanese:
12 ounce Veal chop, bone clean, cap removed, silverskin removed
12 eggs
1 qt Penko breadcrumbs, pulsed in the robo coup
1 qt Italian style breadcrumbs, fine ground
1 radiccio, clean whole leaves in ice water
1 ounce arugala, picked and clean
6 Cherry tomatos, halved
EVOO, t.t.
Lemon juice, t.t.
1/2 Lemon, halved, seed removed
Sugar, t.t.
S + P, t.t.
Cooking Directions
For the Veal:
Set up a breading station cutting board, egg wash, breadcrumbs, and container.
See chef for demo on cutting and pounding the veal chop flat.
Bread the veal milanese and layer with parchment paper in the container.
For the Lemon:
Dust the cut side of the lemon half with sugar and carmelize. Set aside.
For the pick up:
Fry the milanese at 350F until golden brown. Remove and season. Allow to drain excess oil.
Place the veal chop milanese on the oval platter.
In a bowl combine the arugala and cherry tomatos, season and dress with lemon and EVOO.
Stuff the radiccio leaf with the salad and allow to spill out over a potion of the milanese.
Garnish with the half lemon.
Other Recipes That You Might Like