I Love Gaaahlic Bread
Who Doesn't Like Some Delish Garlic Bread?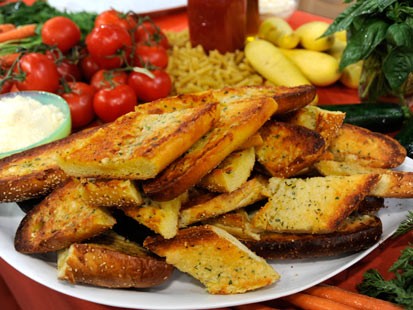 From the kitchen of Emeril Lagasse
"Talk about amazing – this bread right out of the oven is just unbelievably good! I know a little girl named Alexandra who is only two years old who ate five pieces all by herself! I use minced garlic in this recipe; mincing is really simple to do with a garlic press – or with a knife, if you're supervised. If you find it easier, feel free to substitute about one teaspoon of garlic powder for the fresh garlic, but it won't be as good as the real thing!"
-Emeril Lagasse
Ingredients
1 loaf French or Italian bread, about 22-inches in length
12 tablespoon (1 ½ sticks) unsalted butter, softened
2 tablespoons extra virgin olive oil
½ cup grated Parmesan cheese
2 teaspoons Emeril's Original Essence
2 teaspoons minced garlic
1 teaspoon dried parsley
¼ teaspoon salt
Cooking Directions
Preheat the oven to 350 degrees F and make sure the oven rack is in the center position.
Line a large baking sheet with aluminum foil.
Using a serrated bread knife, carefully cut the French bread in half lengthwise. Lay the two halves of bread cut-side up on the lined baking sheet.
Place the softened butter in a mixing bowl. Add the remaining ingredients, and stir together with a rubber spatula.
Spread the butter mixture evenly onto the cut side of the two halves of bread.
Place in the oven and bake until golden brown and bubbly, 15 to 18 minutes.
Remove from the oven.
Recipe courtesy Emeril Lagasse, from Emeril's There's a Chef in My Soup, Harper Collins Publishers, New York, 2002
Food Styled by Karen Pickus
Recipe Summary
Main Ingredients: garlic, bread, olive oil
Course: Side Dish