Grilled Meatball Kebobs with Pasta Salad
Time to Get the Grill Out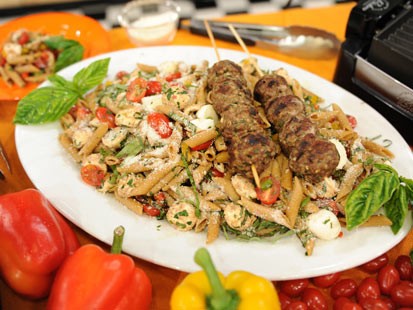 From the kitchen of Rachael Ray
|
Ingredients
1/2 box whole wheat or whole grain penne pasta
Salt and black pepper
1 pound ground sirloin
1/2 bunch of finely chopped fresh flat-leaf parsley, divided
1 egg
2/3 cup bread crumbs
1/2 cup grated Parmigiano-Reggiano or Romano cheese (a couple
handfuls), divided
2 garlic cloves, grated or minced
3 tablespoons grated onion
4 tablespoons Extra Virgin Olive Oil, plus more for drizzling
1 pint of grape tomatoes, halved or 3 plum tomatoes, seeded and chopped
1/2 pound bocconcini, mini fresh mozzarella balls, halved
1 cup fresh basil, chopped
1 small red onion, finely chopped, optional
1 small red bell pepper, finely chopped, optional
2 tablespoons balsamic vinegar
Cooking Directions
Preheat a grill pan or outdoor grill to medium high heat.
Bring a pot of water to a boil for the pasta. Add salt and cook pasta according to instructions on the box. Strain and drizzle with EVOO to prevent from sticking.
In a medium size bowl, combine the sirloin, a handful of parsley, egg, breadcrumb, 1/4 cup parmigiano reggiano cheese, garlic, and onion. Work the mixture together with your hands until well combined. Roll the mixture into meatballs the size of a golf ball, about 1 ounce each. Thread 4 meatballs onto a metal skewer (you can use bamboo skewers too -- just soak them in water for 20 minutes before using) and season with salt and pepper. Lightly coat the grill pan or grill with a little cooking spray or EVOO and cook until the meat is cooked through, about 3 to 4 minutes per side.
While the meatballs are cooking, add the cooked pasta to a serving bowl, drizzle with 2 tablespoons of EVOO and toss with the grape tomatoes, bocconcini, basil, the rest of the parsley, red onion if using, bell pepper if using, and vinegar and season with salt and pepper. The pasta salad may be served cold or at room temperature.
Place the meatball kebobs over the pasta salad and sprinkle with the remaining pamigiano reggiano cheese.
Food styled by Karen Pickus
Other Recipes That You Might Like