Cilantro Slaw
With Sauteed Garlic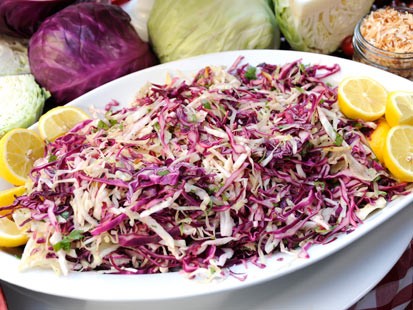 From the kitchen of Cat Cora
|
The big flavors of this slaw add crunch and color. Because it has no mayo, it's great to take on picnics.
Small heads of cabbage are sweeter and more tender than large ones, so I dive into the display at my farmers' market and hunt for the smallest heads. Tear off and discard the outer leaves and slice the cabbage into thin ribbons about 1/4 inch thick (about the width of skinny curling ribbon on a gift).
Ingredients
3 tablespoons extra-virgin olive oil
2 large garlic cloves, thinly sliced
2 tablespoons champagne vinegar or white wine vinegar
1 tablespoon fresh lemon juice
Kosher salt
Freshly ground black pepper
1/ 2 head green cabbage, thinly sliced (about 3 cups)
1/ 2 head purple cabbage, thinly sliced (about 3 cups)
2 tablespoons chopped fresh cilantro
Cooking Directions
In a small skillet, heat the olive oil over medium-high heat just until it shimmers. Add the garlic, reduce the heat to medium, and cook, stirring, until the garlic pieces begin to show some color, about 3 minutes. Remove from the heat. (The garlic will gain a little more color in the hot oil, and that's fine.)
In a medium bowl, whisk together the vinegar, lemon juice, 1/2 teaspoon salt and 1/4 teaspoon pepper. Pour in the warm olive oil with the garlic pieces. Whisk lightly. Toss the cabbage in a large serving bowl and pour the dressing over it. Toss until the slaw is lightly coated with dressing. Taste and add more salt and pepper if you like. Refrigerate until ready to serve. Sprinkle the chopped cilantro over the slaw just before serving.
*Courtesy of Cat Cora's "Classics With a Twist"
Other Recipes That You Might Like