Quick Crunchy Potato Chips
Recipe Courtesy Devin Alexander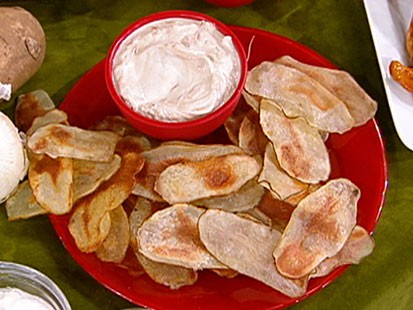 From the kitchen of Devin Alexander
|
These potato chips are shockingly fresh and tasty right from the microwave, and they're healthier than almost any chips on the market. Plus, they're likely to save you a lot of cash since baked chips tend to be quite expensive, yet large bags of fresh potatoes are not.
Ingredients
1 medium baking potato (7 to 8 ounces), scrubbed
1/2 teaspoon extra virgin olive oil
Sea salt, to taste
Olive oil spray
Cooking Directions
Slice the potato into very thin (about 1/16-inch-thick) rounds. Place them in a large resealable plastic bag and drizzle the oil over them. Seal the bag and toss to evenly coat the potatoes. Season them with salt and toss again.
Cover a large microwave-safe dinner plate with parchment paper. Lightly mist the paper with spray. Working in batches if necessary, place the potato slice on the parchment in a single layer. Microwave the potatoes on high for 5 to 7 minutes, or until the chips are completely crisp (be careful not to burn them). Allow them to cool for about 2 minutes. Serve immediately.
Makes 2 servings. Each (about 3/4-ounce) serving has 88 calories, 2g protein, 17g carbohydrates, 1g fat, trace saturated fat, 0mg cholesterol, 2g fiber, 6mg sodium
Hands-on time: 9 minutes
Hands-off time: None
Other Recipes That You Might Like