Easier-Than-Caramelized Onions
Recipe Courtesy Devin Alexander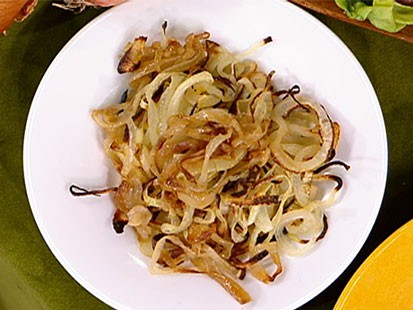 From the kitchen of Devin Alexander
Caramelized onions are a great accompaniment to many dishes, but I never order them out because they're almost guaranteed to be doused in oil or butter. Here, I make them much lighter but still get that to-die-for flavor I love so much (and you likely will too).
Ingredients
2 medium onions (any variety: about 1 1/4 pounds), very thinly sliced
2 teaspoons extra virgin olive oil
Sea salt and pepper, to taste
Cooking Directions
Preheat the oven to 450 degrees F. Line a large baking sheet with parchment paper.
Place the onions on the baking sheet. Drizzle the olive oil over them and season them with salt and pepper. Toss them well. Spread them evenly over the baking sheet. Bake them for 20 to 22 minutes, turning about every 5 minutes, until the onions are cooked through and caramelized (soft and lightly browned).
Makes 4 servings. Each (about 1/4-cup) serving has 35 calories, trace protein, 3g carbohydrates, 2g fat, trace saturated fat, 0mg cholesterol, <1g fiber, 1mg sodium
Hands-on time: 5 minutes
Hands-off time: 20 to 22 minutes
Recipe Summary
Main Ingredients: onions, olive oil, sea salt
Course: Dressing