Dijon Pork With Red Fruit Compote and Blueberry Accents, and All-American Potatoes
Red, White and Blue Cook-Off Recipe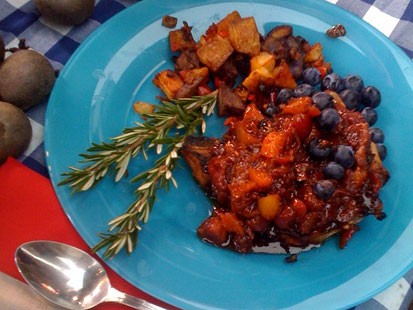 From the kitchen of Coast Guard Food Service Specialist Second Class Rob Runn
Rob Runn, a 6-year veteran, once catered to First Lady Michelle Obama during her recent visit to his ship, the U.S. Coast Guard Cutter Sturgeon Bay. And when he isn't cooking he actually drives the boat as a Master Helmsmen.
Ingredients
Tools:
Open flame grill
12 in. Saute or braising pan
Ingredients:
3-5 pork loin chops, cut 3/4 to 1 in. Thick
1/3 c dijon mustard
a pinch kosher salt
a pinch black pepper
1 tbsp canola oil
2 tbsp minced fresh ginger
1 sprig fresh sage
2 sprigs fresh rosemary
3 medium fresh shallots
1/4 c fig vinegar
1/2 c white granulated sugar
1 c chopped fresh strawberries
1 c chopped fresh raspberries
1 c chopped fresh cherries
1/2 c diced dried figs
1/2 c diced dried apricots
1/4 c roughly chopped fresh blueberries
CLICK HERE for the recipe for the All-American potatoes.
Cooking Directions
Mix together dijon mustard, salt, and pepper to make a wet rub for the pork, thouroughly cover pork with dijon mixture and grill over an open flame. After pork chops have cooked for 5 minute, turn them 45 degrees to get the desired dimond grill mark pattern. After another 5 minutes, flip the pork chops and repeat process for the other side. Meat is done cooking once the juices run clear and the internal temperature reaches 160 degrees.
In a separate braising pan, heat oil on medium-low heat. Add ginger, sage, 1 of the rosemary sprigs, and shallots; saute for 5 minutes until aromatics start to bloom. Add vinegar to deglaze and losen up any cooked on bits of food, then add sugar, be sure to stir till all sugar has desloved. Reduce heat down to a simmer, once liquid in pan has reduced by a 1/4 add the fruit (for the exception of the blueberries). Continue to cook on low heat and reduce the liquid to a gelatenous consistancy.
Once pork has been pulled off of the grill and allowed to rest for a short time, place pork chops on a presenting platter, spoon compote mixture on top of sliced pork. Garnish with blueberries on top, a fanned strawberry, and the last rosemary sprig.
CLICK HERE for the recipe for the All-American potatoes.
Recipe Summary
Main Ingredients: pork, strawberries, raspberries, blueberries, cherries
Course: Lunch, Main Course, Dinner